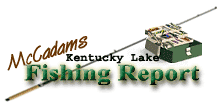 Brought to you by: Fishtale Lodge
April 1, 2010

CRAPPIE SPAWN FAST APPROACHING…BIG BASS CONTINUE BITING

Spawning time for Kentucky Lake crappie is fast approaching. Anglers anxiously await the peak period each year and often attempt to guess just when prime time will be.
With the current warming trend influencing surface temps fishermen may not have to wait much longer as things are happening fast and the biological clock of crappie is ticking.
. In the last few days surface temps have climbed to the upper 50's courtesy of warm sunshine that has heated things up.
Odds are crappie will begin spawning by late next week if not sooner. Once that surface temp climbs into the 62 to 66 degree range and stays there for a spell then the annual ritual gets underway.
The last week to ten days have been challenging for crappie fishermen who have battled some high winds and cool temperatures mixed in with a few warm days and rain. And, high water has been a hurdle for some and there's no doubt it has influenced the whereabouts of the fish.
Anglers have had trouble holding on to a pattern and location lately. Seems the fish have been roaming, a likely response to rising lake levels that have been some five feet above normal week.
Lake levels crested at midweek and began falling slowly Wednesday night. TVA is forecasting a gradual decline in elevation for the next several days.
High water on the Mississippi and Ohio Rivers to our north continues to be a factor in how much water TVA can discharge.
Elevation at Kentucky Dam this weekend is expected to be near the summer pool level of 359. Upstream at New Johnsonville readings will be in the 358.8 range. Expect lake stages to change daily as TVA pulls the reservoir back toward its normal curve.
Surface temps are in the 57 to 59 degree range and will likely rise into the low 60's this weekend in some areas. Water color is clear in the main lake with some stain in upper bays where wind and last week's runoff delivered some dingy color that is clearing fast.
Although anglers in the upper end of Big Sandy have been catching crappie, action has been slower down around the Paris Landing sector where fish are scattered and still deep for the most part. There have been a few isolated cases of some crappie caught in the 7 to 10 foot zones but inconsistent.
Bank fishermen were scoring some nice stringers at the culvert at Big Sandy this week. Seems the fish migrated to the headwaters after last weekend's rain and rapid rise in lake stages.
Some decent catches were still coming from the New Hope and Country Junction area this week too. Most boats were drifting or slow trolling multipole rigs in the 9 to 12 foot zone. A few limits were taken at midweek but wind was a factor most days.
Around the power lines at Mansard Island action was slow as fish were scattered and relating more to deeper areas. That will likely change soon as the fish respond to warmer water and head shallow.
Seems the fish have been reluctant to relate to structure this week as the rising water played tricks on anglers stalking the stumps, brushpiles, and stakebeds. Some of the better stringers in the Paris Landing area were taken on main lake ledges in depths of 25 feet.
It's high time the fish were moving toward spawning territory and the next few days should see a real transition. Male crappie are showing signs of hormonal changes and turning darker each day, another sign spawning time is close at hand.
From the bass department comes a continuation of big fish and hefty stringers being caught. Several fish exceeding the 8-pound mark have been taken lately and there has been an unconfirmed report of an 11-pound largemouth caught last weekend in a tournament.
Patterns have been changing but crankbaits on gravel points are still producing. Carolina rigged lizards were working too as were some suspending jerk baits.
Watch for bass to move up fast this week in response to higher lake levels and warm surface temps. Spinnerbaits and shallow running crankbaits around shallow structure will be popular choices as will some floating flukes style worms and various topwater selections.
There are some dead grass beds holding bass along shallow shorelines already. A little current should enter the picture this week so some points and bridge piers will be holding fish as will deeper banks and rip-rap around roadbeds.
Anglers were shedding the overcoats this week as the dogwoods bloomed and warmer weather influenced the fishing scene.


Also check out our past:
Kentucky Lake Fishing Reports

Steve McCadams is one of the nation's best known Crappie Fishermen and a full time resident of Paris, Tennessee. Steve is also a professional hunting and fishing guide here in the Paris Landing area.