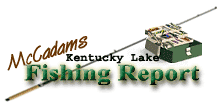 Brought to you by: Fishtale Lodge
Steve McCadams'
Kentucky Lake Fishing Report for:
March 7th, 2003
Things are improving on the fishing scene here at Kentucky Lake. The weatherman has finally come up with a good forecast where sunny days and a warming trend is part of the long-range picture.
Crappie fishing has improved this week and overall activity is about to break loose. Many local anglers have already tested the waters this past week as winter crappie were being caught in a variety of areas.
Meanwhile, the reservoir has been falling steady for the last week to ten days. This comes after dramatic increases in lake levels back in mid-February where heavy rains and snow pounded the TVA valley for weeks.
Observed lake levels in the New Johnsonville area were 355.9 on Thursday and falling steady. Downstream at Kentucky Dam the readings were somewhat lower where reports indicated the elevation to be at 354.5.
This means there's still a lot of current in the main river. With over a foot difference between that 60-mile or so stretch in the Tennessee River there is going to be current as TVA continues attempts to pull the lake back down to winter pool stage.
Lakes are lowered so as to create storage capacity for heavy rains in the winter. The recent scenario has been a prime example.
Crappie anglers are having success in West Sandy near Britton Ford and on out near Sulphur Well Island and down to the power lines at Mansard Island Resort area.
Action has also improved at the mouth of Big Sandy out from Little Sulphur and Eagle Creeks. However, there's still too much current to fish the main river channel on the Tennessee yet bays back off the main river are producing crappie. Leatherwood, Hurricane, Standing Rock and White Oak are just a few to consider.
Watercolor has been dingy throughout Big Sandy but the falling lake levels are really pulling the dirty water out of the secondary areas. Look for watercolor to continue to clear in the week ahead.
Anglers are finding crappie in the 12-foot zones up Big Sandy but slightly deeper down in the Paris Landing area.
Some fishermen report the most success on minnows or jigs tipped with minnows. Then, some reports have others fishing jigs exclusively and tipping with Berkley Power Bait.
Such colors as purple and chartreuse, blue and white, black and chartreuse, and fluorescent red and chartreuse are a few of the popular colors that are working. Most anglers are fishing the tube-skirted jigs on painted leadheads in a variety of loud colors.
Look for the deeper zones to produce fish this upcoming week as the lake falls back down to winter pool levels. The falling lake stages tend to pull fish back to deeper ledges or drop-offs where the fish have deep water nearby.
Bass action is in need of some warm days but that may be close at hand. Surface temperatures were lingering in the 40-degree range but will likely warm several degrees this upcoming week.
A few fish were hitting jig and pig combos or crawfish colored crankbaits on rock and gravel banks. Some loud colored crankbaits in the "firetiger" and "florescent orange" were producing as well due to the dingy watercolor.
Overall action should improve this week so dust off the rods and rearrange the tackle box. It's time to go fishing and get the season started. This cabin fever has got to go!

For The Lake Barkley Report
Click Here
For Other Kentucky Lake Fishing Reports
Click Here
Steve McCadams
is a professional hunting and fishing guide here in the Paris Landing area and host of The Outdoor Channel's television series IN-PURSUIT.