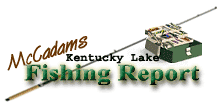 Brought to you by: Fishtale Lodge
Steve McCadams'
Kentucky Lake Fishing Report for:
March 5th, 2004
Fishing has improved on the Kentucky Lake outdoor scene this past week, thanks to a few days of warm weather and light winds.
Although slightly cooler conditions and rain entered the picture at midweek, the weatherman indicates moderate temperatures should return soon.
Surface temperatures have warmed since last week. Several bays were sporting temperatures in the 46 to 49 degree range this week.
Observed lake elevation at New Johnsonville was in the 354.5 range. Downstream at Kentucky Dam lake levels were slightly lower with a reading of 345.4.
The reservoir has been relatively stable this week after falling slowly last weekend. Rains in the area could cause the lake to rise slightly this next week, barring any flooding upstream.
Crappie action was on the upswing this week as anglers found fish hitting on the deep ledges throughout Big Sandy and West Sandy. In the Paris Landing area most of the fish were holding off the deep drop-offs in 18 to 24 foot range. A few scattered fish were taken in the 12 to 15 foot range but most of the success stories came from deeper water.
Both live shiner minnows and jigs were producing as anglers worked structure along the deep side of the ledges. Not many concentrations of fish were found as it was mostly a few here, few there type report.
A variety of tube jig colors were working ranging from purple and chartreuse to blue and pearl. Some anglers were also using painted leadheads in the florescent red, green, and pink colors.
Jigs tipped with live minnows were also working well but the fish were finicky for most anglers who were making a slow presentation of the bait, as strikes were light.
Although not many limits were being caught, overall numbers of keeper size crappie have improved this week for most anglers.
There have been a few reports of two-pound plus slabs taken from the deep ledges.
Several boats are slow trolling multipole rigs and finding some fish suspended near the ledges while others are vertical fishing bottom-bumping rigs and working stumps and brush.
Watercolor is in good shape over most of the lake with some dingy water present in much of Big Sandy and over on the Tennessee River area. Many of the bays are relative clear.
Bass action was fair this week as anglers worked rock and gravel banks with crawfish colored crankbaits and jig and pig combos. Some anglers were slow rolling spinnerbaits around logs and boathouses with minimal results.
Itís that time of year when those big drum nail a crankbait or jig and give bass anglers a quick thrill for a few seconds.
Watch for bass action to improve once that surface temperatures crosses over the 50-degree threshold.
Some anglers are still working the riverbank for sauger in such areas as the mouth of Duck River and around New Johnsonville bridge. A few boats were fishing the old Danville bridge area but not many fish had been taken there lately.
Overall fishing conditions are improving and all it takes is a day or two of warm sunshine to stimulate activity. So, keep the boat and tackle ready and watch the treetops. Those calm days are rare in early March so take advantage of them when they arrive!
For The Lake Barkley Report
Click Here
Also check out our past:
Kentucky Lake Fishing Reports
Steve McCadams
Steve McCadams is one of the nation's best known Crappie fishermen and a full time resident of Paris Tennessee. Steve is also a professional hunting and fishing guide here in the Paris Landing area.