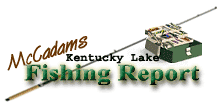 Brought to you by: Fishtale Lodge
Steve McCadams'
Kentucky Lake Fishing Report for:
March 4th, 2005
This week's fishing scene again had a mixture of weather patterns for anglers. There were some nice sunny days with light winds and a few cold ones that commanded a thick coat and gloves.
Crappie action has been fair this week with some good stringers taken last weekend by anglers who fished jigs in midrange depths. During the higher lake levels last weekend and earlier this week some of the fish had moved up into 11 to 14 foot zones where brush and stakebeds or stumps attracted them.
Meanwhile, lake levels are falling and Kentucky Lake's elevation is changing each day. After more than a week with above normal readings, TVA is drawing the reservoir back down toward the winter pool mark.
TVA indicates the reservoir will continue to drop throughout the weekend with a projection in the New Johnsonville around the 355.8 range. Kentucky Dam has been several inches lower lately as the water heads that direction. Last week some days saw as much as 18-inches difference between New Johnsonville and Kentucky Dam elevations.
Look for crappie action to resume in the deeper venues this week due to the falling lake levels. Odds are the 18 to 24 foot zones will improve as the fish pull back to main lake ledges here in the Paris Landing area.
Anglers working the upper Big Sandy and West Sandy areas near Springville pumphouse and Britton Ford will likely find some fish in the 11 to 13 foot zones and perhaps less than that.
Several fish have been taken in West Sandy by anglers slow trolling and drifting jigs. Some are using wind socks to slow down the boat movement while others use trolling motors and move along with multi-pole "spider" rigs.
Surface temperatures this week have been in the 46 to 49 degree range. Watercolor has improved throughout most of the area with most of the creeks clearing up from last week due to the falling lake levels. And, most of Big Sandy and West Sandy is sporting a good color for fishing. Some dingy water remains along the Tennessee River.
Bass action was pretty good last weekend during the warm spell as some nice stringers were taken by anglers tossing jig and pig combos and crawfish colored crankbaits around rock points and bluffs were current was present.
Several spotted bass and a few smallmouth have been taken on the edges where current was present.
Anglers continue to watch the wind, as that's always a big factor this time of year.
For The Lake Barkley Report
Click Here
Also check out our past:
Kentucky Lake Fishing Reports
Steve McCadams
Steve McCadams is one of the nation's best known Crappie Fishermen and a full time resident of Paris, Tennessee. Steve is also a professional hunting and fishing guide here in the Paris Landing area.