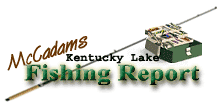 Brought to you by: Fishtale Lodge
Steve McCadams'
Kentucky Lake Fishing Report for:
March 31st, 2006
CRAPPIE AND BASS HEAD SHALLOW AS LAKE LEVELS RISE…SPAWNING PHASE APPROACHES
Water levels will begin rising slowly this weekend here on Kentucky Lake as TVA's schedule for reservoir filling traditionally begins on April 1st.
Warm weather will coincide with rising lake levels this next week to bring a lot of crappie and bass to shallow venues in preparation for spawning.
Thanks to the return of warm weather, surface temperatures have rebounded rapidly the last few day and that means spawning phases for crappie are rapidly approaching. Last weekend surface temperatures were resting at 49 degrees as brisk north winds lingered but by Wednesday the sun took over and teamed with light winds to send readings up to 56 degrees.
Look for surface temperatures to continue to climb this weekend and early next week as warm weather is in the forecast. Crappie will begin early spawning phases when surface temperatures stabilize in the 62 to 66 degree range so anglers can expect some fish to begin the annual ritual by the middle of next week.
Earlier this week a lot of crappie were still relating to deep water hangouts as main lake ledges were producing for area anglers. Some hefty stringers were taken from the 20 to 25 foot zones as anglers worked the deep side of sandbars, stalking the submerged stumps and brush.
Earlier in the week I found fish still holding good on deep structure where double hook bottom bumping rigs armed with live shiner minnows and jigs worked well. The fish were staying on the deep side of the drop-offs until Wednesday afternoon when it appeared fish made a blitz toward midrange depths, a response to the warm day that shot surface temperatures up some five to six degrees.
The fish are really on the move and anglers can expect to see a major migration this weekend and early next week as the crappie seek out potential spawning spots. Those shallow areas that were void of fish earlier this week will likely be productive by this weekend and throughout next week.
Presently, Kentucky Lake is rising slowly and will continue a gradual climb throughout April until the reservoir reaches summer pool by May 1. Observed lake elevation is expected to be 355.5 at Kentucky Dam this weekend. Upstream at New Johnsonville projections are for a level of 355.2.
Surface temperatures continue to climb and will likely eclipse the 60-degree mark this weekend.
Water color is sporting a slight stain in the upper Big Sandy area and throughout West Sandy. A good fishing color is also present in the Paris Landing area and in the Tennessee River.
Bass fishing continues to hold up well as some heavy stringers are coming in from anglers tossing a variety of lures. Crankbaits fished slow around rocky points, gravel banks, roadbeds, and rip-rap are paying off. Popular colors continue to be red, and burnt orange with some Tennessee Shad and crawfish.
Jig and pig combos in brown and red colors are working as are some worms and suspending jerk baits. Spinnerbaits slow rolled around visible structure have also accounted for a few fish.
Although surface lures have not been producing, that will change this week as the warmer water will see bass take on a more aggressive mood.
With rising lake levels and warmer weather now entering the picture, fishing patterns will continue to change. Things look good for the upcoming week so make plans to wet a hook and take advantage of the long overdue spring weather.
Daylight savings time arrives Sunday so you'll have some long afternoons available to test the water for the fish of your choice.
For The Lake Barkley Report
Click Here
Also check out our past:
Kentucky Lake Fishing Reports
Steve McCadams
Steve McCadams is one of the nation's best known Crappie Fishermen and a full time resident of Paris, Tennessee. Steve is also a professional hunting and fishing guide here in the Paris Landing area.