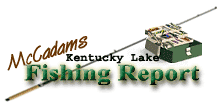 Brought to you by: Fishtale Lodge
Steve McCadams'
Kentucky Lake Fishing Report for:
March 3rd, 2006
WARM WEATHER STIRS UP SPRING FEVER…FISHING ON THE UPSWING
From the local fishing scene come several success stories thanks to the warming trend this week.
Spring weather returned at midweek and temperatures in the area were some 15 to 20 degrees above normal. That suited local anglers just fine as boat after boat headed to Kentucky Lake this week in attempts to catch fish and lose cabin fever.
A few days had southwest winds kicking up whitecaps but a couple of those warm days had light winds that made for ideal fishing conditions for both bass and crappie anglers.
Presently, Kentucky Lake's water level is resting near its low ebb of winter pool. Elevation in the New Johnsonville and Paris Landing area was 354.1. Downstream at Kentucky Dam lake elevation was in the 354.4 range.
The reservoir has been falling slowly this week. Look for relatively stable lake levels in the week ahead as no heavy rains are in the forecast.
Surface temperatures climbed several degrees this week. Early in the week readings of 42 to 44 were the norm but by Wednesday afternoon the water had warmed to the 46 to 48 degree range. Watch for surface temperatures to cross the 50-degree threshold by this weekend.
Watercolor is showing some good stain in the Big Sandy and West Sandy area. A dingy color was present around Sulphur Well Island and further south at midweek while clear conditions were the norm from the TVA power lines north toward Paris Landing.
Crappie action has improved all week with several fish coming from 11 to 13 foot depths up Big Sandy and in West Sandy. Techniques ranging from slow trolling multipole rigs to vertical fishing jigs and minnows around submerged structure were paying off.
Popular color choices were pink and white, black and pearl, and variations of chartreuse with purple, pink, and orange.
Some bank fishermen have been landing crappie from the Springville pump house lately. Each year when the dewatering area discharges into the main lake, baitfish and crappie seem to congregate there. Several fish have been taken there under the cover of darkness too.
Down toward the mouth of Big Sandy near Paris Landing anglers have been finding improved action on the deep ledges. Depths of 17 to 23 feet have given up fish this week as anglers stalk the structure with minnows and jigs.
Some fish were scattered in midrange brush piles and stakebeds but most of the fish in the Paris Landing area were coming from deep drop-offs. Watch for fish to move up in the days ahead as the warmer water draws fish into shallow water.
Bass action was slow earlier this week but had improved by Wednesday and Thursday due to the warming surface temperatures. A few smallmouth were hitting on long river points but most of the largemouth were coming from steep rock banks and bluffs.
With the dramatic change in weather this week watch for bass to move up on shallow gravel and rock points where crawfish crankbaits, jig and pig combos and suspending jerk baits will produce.
A few sauger were showing up at Danville Bridge and further south to New Johnsonville and the mouth of Duck River.
Catfish are still being taken by a few anglers who know how to work those deep winter holes too. And, the warm waters of the New Johnsonville steamplant discharge were giving up good catfish too.
After a week like this one, spring fever has affected everyone.
For The Lake Barkley Report
Click Here
Also check out our past:
Kentucky Lake Fishing Reports
Steve McCadams
Steve McCadams is one of the nation's best known Crappie Fishermen and a full time resident of Paris, Tennessee. Steve is also a professional hunting and fishing guide here in the Paris Landing area.