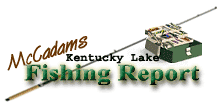 Brought to you by: Fishtale Lodge
Steve McCadams'
Kentucky Lake Fishing Report for:
March 30th, 2007
CRAPPIE SPAWN UNDERWAY...WARM WEATHER ADVANCES BIOLOGICAL CLOCK
Warm weather with near record highs has advanced the biological clock for both bass and crappie this spring.
It's ahead of schedule but crappie spawning has begun here in the Big Sandy portion and around the Paris Landing sector of Kentucky Lake. Surface temps are up to 66 degrees in many areas and even warmer in the upper end of Big Sandy and portions of West Sandy.
Earlier this week anglers were finding fish blitzing toward shallow zones as spawning appeared to start in the 3 to 5 foot areas. Extremely clear water color has most anglers dropping back and casting curly tail jigs, tube skirts, Road Runners, and Charlie Brewer Crappie Sliders to shallow submerged structure.
Heavy rains on Wednesday could send some stain to the shallow bays across the reservoir as runoff may work in favor of shallow water anglers.
Some good stringers were coming from manmade fish attractors in 7 to 11 foot depths as well. Casting also proved to be the popular technique there as vertical presentations were less productive due to the clear water and no wind situation that made fish quite spooky.
Elsewhere, good numbers of fish were showing up near Mansard Island and the TVA Power Lines where anglers were drifting, slow trolling, and spider rigging. A lot of suspended crappie were being caught as anglers pulled jigs through 7 to 12 foot depths out over much deeper water.
Hefty stringers of crappie were also coming from the New Hope area of the upper Big Sandy River. Crappie there were coming from structure located in three to five foot depths.
The fish are really on the move as a variety of techniques are working at several different depth zones but the rapid increase in surface temperatures really has the fish heading toward spawning zones.
Some good stringers were taken in the main lake where anglers were vertical fishing deep ledges in the 18 to 24 foot last weekend. However, each passing day has seen more fish leave the deeper venues and head shallow as things are changing quickly.
Warm days and light winds have been kind to anglers and fishing has been good. Most anglers are saying it has been one of the best March months in decades as to overall weather and fishing conditions.
Peak spawning time occurs when surface temps reach the 62 to 66 degree range. It appears the crappie spawn will be a week early this year compared to the usual time frame.
The fish don't have calendars. However, they respond to warm water, length of day, etc...and this year's extended warm spell has lingered long enough to speed things up ahead of schedule.
Lake levels have been relatively stable this week. A slight rise in lake levels may occur in the next few days in the aftermath of Wednesday's heavy rain. However, according to TVA's forecast elevation at Kentucky Dam will be in the 355.6 range going into the weekend. Upstream at New Johnsonville elevation is expected to be 355.2 the next few days. Those readings are a few inches above the low ebb of winter pool but close to TVA's curve for reservoir levels during late March.
Kentucky Lake's normal rise toward summer pool begins on April 1. At that time a gradual increase in lake elevation occurs, barring any drastic rains or floods upstream. The reservoir is slated to reach summer pool of 359 on or around May 1st each year.
Crappie will likely move up toward the top sides of ledges and migrate over secondary flats this week as they head out toward spawning territory. Expect to see the 7 to 12 foot zone pay dividends in the next few days. And, stakebeds and brush in 4 to 8 foot zones will continue giving up fish in the early morning and late afternoon lowlight conditions.
Male crappie have really turned dark the last few days as their hormonal changes kicks in. That's a sure sign the spawn is now underway.
Females are showing good egg sacs as bellies are bulging on many fish. Many fish are sporting mushy eggs that are ready to be deposited as the cleaning tables are telling the day by day story.
Popular jig colors have been white/chartreuse, purple/chartreuse, black/yellow, red/chartreuse, yellow with red metal flake, and some dull red/black combos with a touch of pearl mixed in. And, chartreuse with red sparkle also worked well.
Shiner minnows tipped on jigs seemed to also entice bites now and then as did adding Berkley Power bait and other scent attractants.
Bass continue to come on strong as those gravel points, big chunk rock, roadbeds, and sloping points are giving up some hefty stringers.
Baits of choice have been Rapala's Shad Rap and other assorted crankbaits in the shad and crawfish colors. And, several fish have been taken on suspending jerk baits such as Smithwick's Suspending Rogue and Bomber's Model A.
It appears more smallmouth are showing up this spring than last year too. Several anglers are tossing hair jigs and other finesse baits around rock bluffs.
Watch for increased activity around shallow structure this week as surface temps warm and bring more bass shallow where submerged grass and wood may attract fish chasing shad.
For The Lake Barkley Report
Click Here
Also check out our past:
Kentucky Lake Fishing Reports
Steve McCadams
Steve McCadams is one of the nation's best known Crappie Fishermen and a full time resident of Paris, Tennessee. Steve is also a professional hunting and fishing guide here in the Paris Landing area.