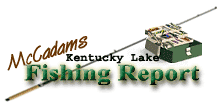 Brought to you by: Fishtale Lodge
Steve McCadams'
Kentucky Lake Fishing Report for:
March 28th, 2003
APPROACHING COLD FRONT COULD DELAY CRAPPIE SPAWN
Spring may have sprung but winter isnít totally out of the picture. After a week or two of beautiful weather, anglers will face the challenge of an unwelcome cold this weekend according to the national weather service.
Brisk north winds and falling temperatures are in the forecast this weekend. The dip in temperatures will likely send the surface temperatures back down in the mid to upper 50ís for a few days and push back the early phases of the crappie spawn.
Crappie fishing has been very good on Kentucky Lake the last two weeks, thanks to above average temperatures and tolerable winds. March is a month with the reputation for unstable weather. Always has been; always will be.
Some hefty catches have been recorded this week from shallow water. Depths of 4 to 8 feet have produced as the fish enter spawning areas where submerged structure is located.
Such bays as Swamp Creek, Eagle, West Sandy and the upper portion of Big Sandy around the flats of New Hope and Country Junction continue to give up some good stringers.
Male crappie are beginning to show signs of darkening color changes, a sure sign that hormonal alterations are taking place and the spawn is close at hand.
Several male crappie have been taken this week from shallow banks where anglers are casting jigs on slip bobbers or light spinning tackle where weedless jig heads are used. Twister tail grubs in the June bug or chartreuse colors sporting metal flake have produced.
Anglers trolling or spider rigging are doing good in the West Sandy areas near Springville pumphouse, Britton Ford, and over on Big Sandy near New Hope landing. Many boats are finding fish on the shallow flats as they drift jigs and live minnows.
A lot of fish are still suspended in depths of 6 to 8 feet. The fish stage in such areas awaiting spawning conditions where surface temperatures warm into the 62 to 66 degree range.
Surface temperatures this week were in the 58 to 62 degree range over much of Kentucky Lake. So, things are just about right to begin the spawning phases but look for the fish to back off some due to the influence of the cold front.
Action is likely to slow down for a few days as the fish sometimes take on a less than enthusiastic mood when sudden weather changes occur. Action should improve next week as soon as warm weather returns.
Water color was clearing in many bays and out on the main lake area. Thereís still some stain in shallow bays.
Observed lake elevation in the New Johnsonville area was 354.4 and rising slowly at midweek. At Kentucky Dam the predicted elevation for the weekend was to be in the 354.5 range.
While shallow water action had improved this week there are still some fish lingering out on the main lake sandbars in depths of 16 to 20 feet. Anglers there are working live minnows and jigs around the deep structure and finding fish there too.
Many trollers are using small jigs such as Road Runners while others rely on tube style jigs that allow quick color changes.
Bass action has improved this week with several patterns underway due to the warming trend. The gravel banks and shallow mud flats near roadbeds have been producing some fish as anglers toss spinnerbaits, shallow running crankbaits and jerk baits.
Some fish are coming from the backs of creeks such as Panther and others on the east side of the lake where submerged grass is present. Rattle Traps in chrome and blue colors have been accounting for several fish.
A few smallmouth are taking hair jigs on rocky banks. And, some decent spotted bass are showing up on rip-rap rock bluffs and roadbeds.
The approaching cold front could slow down the bite for bass anglers this weekend but watch for action to return quickly with a day or two of warm sunshine.
For The Lake Barkley Report
Click Here
For Other Kentucky Lake Fishing Reports
Click Here
Steve McCadams
is a professional hunting and fishing guide here in the Paris Landing area and host of The Outdoor Channel's television series IN-PURSUIT.