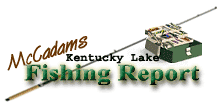 Brought to you by: Fishtale Lodge
Steve McCadams'
Kentucky Lake Fishing Report for:
March 27th, 2008
LAKE LEVELS FALLINGÖANGLERS AND FISH ON THE MOVE
It was another week of high water and high winds for Kentucky Lake anglers but things may be on the upswing. TVA indicates lake levels are finally falling and the weatherman says warm temperatures are in the forecast.
Anglers have had tough times the last two weeks as unstable conditions have challenged both bass and crappie fishermen in their attempt to establish patterns.
On Wednesday, lake levels were more than eight feet over normal winter pool elevation. The reservoir has been rising daily for almost two weeks, knocking things off balance and scattering fish.
Normal winter pool elevation is 354 and TVAís curve indicates the low lake stage is supposed to remain throughout the month of March until reservoir filling begins on April 1 each year. Wednesday the reservoir crested at a reading of 363.4 in this area and finally began to recede on Thursday.
TVA was predicting a steady fall going into the weekend with a level of 362.7 by Friday night. Hopefully, lake stages will continue to fall for several days but a lot depends on the status of flooding to our north where the Ohio and Mississippi Rivers have been on a tear.
Just how far back down the curve TVA will go with lake levels remains to be seen. The agency will likely draw the reservoir back to the 356 range but a lot depends on future rainfall both here and to our north.
A lot of floating debris has also been dangerous to boaters as logs and all sorts of obstacles have played havoc all across the lake. Iíve dodged some dandy logs this week that almost hammered my boat, despite slowing down and watching.
Presently, surface temperatures are in the 52 to 56 degree range and warming slowly. Water color has improved since last week with a good stain for fishing throughout the Big Sandy embayment and in most large bays along the Tennessee River.
Crappie continue to come from a variety of depths by anglers fishing assorted techniques. Iíve seen everything from drifters in deep water to bank fishermen tossing bobbers and at times all have caught some fish.
In West Sandy a few anglers scored catches by pulling Road Runners over deep water and catching suspended fish. One or two reports had boats trolling deep diving crankbaits.
Down around Mansard Island boats were slow trolling spider rigs while others drifted over flats. In the Paris Landing area most boats were either vertical fishing deep ledges with double hook bottom bumping rigs armed with jigs and live minnows or perhaps vertical fishing jigs over stakebeds.
TWRA officers on the lake at midweek reported most boats managing to catch only 7 to 10 fish on an average. Itís getting better but things have been tough.
Deep water has paid off for some good stringers of fish this week here in the Paris Landing area but high winds have dictated when and where anglers could fish. On the days when light winds were present those main lake ledges have given up some dandy fish where depths of 21 to 26 feet have paid off.
The last few days more fish have moved up on flats and in the mouths of bays where stumps, brush, and manmade fish attractors in the 15 to 17 foot range were appealing to meandering fish.
Look for more movement toward shallow areas this next week as surface temps warm and spawning phases approach.
Iíve seen a few male crappie showing signs of hormonal changes with a slight tint of dark color beginning to show up. However, this springís spawn is still more than a week away and well behind last year at this time.
Thatís not all bad either as changing lake levels in the days ahead will likely pull water off some shoreline habitat that has been inundated now for more than a week. While a few scattered fish have been taken in shoreline stickups the bulk of the crappie population has remained in deeper depths due to cooler surface temps.
What anglers fear most during high water periods is spawning taking place in shallow structure, only to have lake levels drop drastically, leaving eggs high and dry or young of the year in vulnerable areas.
The recent rash of cooler weather may well work in favor of the timetable for this springís crappie spawn.
Meanwhile, watch for a lot of movement this next week as waters warm and lake levels change. Crappie spawn usually peaks when surface temps enter the 62 to 66 degree range so watch for that to happen within the next week two weeks if not sooner.
Bass continue to bite good and some hefty stringers have been taken even during the fluctuation of lake levels and weather patterns. Seems a lot of the fish moved up quickly last week toward shoreline structure and have stayed there ever since.
While some anglers are still tossing crankbaits, jig and pig combos, Carolina rigs, and suspending jerk baits around rocky points and gravel banks, others have found action consistent while tossing spinnerbaits.
A lot of submerged grass and bushes where the original shoreline would normally be have produced fish this week.
Smallmouth were still showing up on the east side of the lake where clear feeder creeks were giving up some as were steep rock bluffs in the backs of bays.
With falling lake levels now entering the picture watch for current to play a big role for bass patterns in the days ahead.
For The Lake Barkley Report
Click Here
Also check out our past:
Kentucky Lake Fishing Reports
Steve McCadams
Steve McCadams is one of the nation's best known Crappie Fishermen and a full time resident of Paris, Tennessee. Steve is also a professional hunting and fishing guide here in the Paris Landing area.