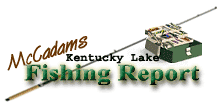 Brought to you by: Fishtale Lodge
Steve McCadams'
Kentucky Lake Fishing Report for:
March 25th, 2005
CRAPPIE ACTION IMPROVES…SPAWNING PHASE STILL WEEK OR TWO AWAY
Crappie action has improved this week on Kentucky Lake, despite the persistent winds and low temperatures. March continues to live up to its cold and windy reputation. It's a month where winter and spring often collide.
Spawning phases are still a week or two away in this area. The fish will begin going through the motions once surface temperatures reach the 62 to 66 degree range.
The weatherman indicates some warmer weather is on the way and that's a welcome change for bass and crappie anglers who have endured winter conditions again this past week. The wind has been a factor in every angler's attempt to get on the water.
We're still not out of the woods yet as to cold fronts so keep the overcoat handy. The week ahead may have another spell of mixed weather with some warm days trading places with brief visits from cold fronts.
Surface temperatures struggled to get out of the 40's but earlier this week several bays and creeks finally made it to the 50 to 53 degree range. Cold nights and somewhat below average temperatures during the days have not allowed the lake to warm much this week.
Water levels continue to stay near the winter pool stage. TVA predicts a reading of 354.3 in the New Johnsonville area this weekend. Kentucky Dam will have a slightly higher reading of 354.5.
The lake has been relatively stable this past week and barring any heavy rains, should remain near the winter pool levels for another week to ten days at which time rising stages will occur. TVA begins its curve toward the higher summer pool levels on April 1 each year.
Watercolor is sporting a good stain throughout most of Big Sandy and West Sandy. Several bays along the Tennessee River are clear while the main river has a little dingy water due to high winds.
Some good stringers of crappie were taken this week throughout the Paris Landing area. Although high wind dictated where anglers could fish on most days, several nice catches were taken in a variety of depths.
TWRA creel clerk Bill Heathcott of Big Sandy reported checking some nice crappie earlier this week throughout Big Sandy and West Sandy. He indicated several fish exceeding the two-pound range were seen and one that tipped his scales at three pounds!
I dropped back to deeper water this week and found some nice size crappie lingering on the main lake ledges in depths of 20 to 25 feet. While using bottom-bumping rigs with both live minnows and chartreuse jigs, my clients boated some hefty slab crappie.
The fish have been relating to the deeper sides of ledges where stumps and brush were found. We found several crappie in the one and a half-pound range with a few exceeding the two-pound mark.
Cold weather has kept a lot of crappie from venturing into shallow venues lately but that's about to change. A couple days of warm sunshine will see surface temperatures rise so watch for significant movement toward shallow structure as a result.
A few fish have been taken in midrange structure but the best is yet to come for those 5 to 10 foot zones. This next week should see male crappie begin their annual migration toward rock banks and pea gravel points. The shorelines will attract male crappie for a few days and techniques such as casting jigs can be productive.
Meanwhile, not many male crappie have shown signs of hormonal changes. I've seen a few males taken in deep water that were barely shading toward their dark appearance that hits a peak during prime spawning conditions.
Although deep water will continue to produce fish this next week, watch for crappie to make a big move toward large bays and flats where structure such as stakebeds and brushpiles in-between shallow spawning venues and deep water will serve as staging areas.
Bass action has slowed some since last week but a few hefty largemouth continue to show up. Several largemouth in the 5-pound plus range were taken lately but it appears the recent rash of cold fronts and bone chilling winds pushed some fish back off the banks and into deeper water.
Watch for action to improve this week, however, as bass return to rock banks and shallow pockets where stumps, logs, roadbeds, boathouses, and feeder creeks are found.
Warmer waters will stimulate action for some topwater but look for spinnerbaits, crankbaits, and some suspending jerk baits to produce this next week.
Jig and pig combos are also working well as are rattletraps worked around rock and gravel.
Not many smallmouth have shown up in the creel of area bass anglers lately but some spotted bass and nice largemouth are picking up the slack.
And, several stripers are still hitting along the main river channel. Look for a good week of fishing ahead as a significant transition takes place as fish move from winter hideouts to spring spawning areas.
We're still well over a week before any spawning takes place but the popular phase is fast approaching here in the Paris Landing area. It appears the first two weeks of April are going to coincide with the crappie spawn here on Kentucky Lake.
Anglers, however, remember last year's snowstorm that descended on April 13 so chances are we've got some Dogwood Winter ahead of us.
Still, fishing has been pretty good so grab the overcoat, raingear, sunscreen, and sunglasses and head toward the lake. You never know what the weather will be so hope for the best and prepare for the worst.
Otherwise, you might just miss a good fishing day as every day is different out there right now!
For The Lake Barkley Report
Click Here
Also check out our past:
Kentucky Lake Fishing Reports
Steve McCadams
Steve McCadams is one of the nation's best known Crappie Fishermen and a full time resident of Paris, Tennessee. Steve is also a professional hunting and fishing guide here in the Paris Landing area.