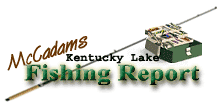 Brought to you by: Fishtale Lodge
Steve McCadams'
Kentucky Lake Fishing Report for:
March 24th, 2006
CRAPPIE SPAWN STILL WEEK OR MORE AWAY
Anglers battled wind and cooler temperatures this week but a warming trend is on the radar screen.
Spring officially arrived on Monday but it was a day of cold winds and rain, feeling more like winter was staying around for a spell. Very cold weather lingered all week, challenging anglers who braved the elements.
There were some good catches last weekend on both bass and crappie, despite having to battle north winds and below average temperatures. Action slowed earlier this week in shallow areas but showed signs of improvement at midweek, thanks to the return sunshine that has been slow to bring temperatures back to normal.
Presently, surface temperatures are in the 50 to 53 degree range, which is several degrees cooler than two weeks ago. Watch for waters to warm several degrees early next week when sunny days return. It doesnít take long for surface temperatures to rebound this time of year.
Observed lake levels continue to say near the winter pool mark across Kentucky Lake the last several weeks. Only minor fluctuation has occurred but the reservoir did rise some at midweek after heavy rains on Monday.
Presently, lake stages are in the 355.1 range at Kentucky Dam. Upstream at New Johnsonville Steam Plant elevation is slightly lower with readings in the 355 range. TVA indicates lake levels will fall slowly this weekend.
Watercolor is sporting a good stain for fishing in West Sandy and throughout most of the Big Sandy embayment. Clearer water exists at the mouth of Big Sandy and around the Paris Landing area while some creeks such as Eagle, Swamp, Lick, Bennettís, and Standing Rock have some stain in the upper end.
Some runoff from rains earlier in the week have combined with high winds to stir up sediments on the main lake so some areas of stained water are present throughout the area.
Crappie continue to hit good but have backed off some this week as to their blitz toward shallow water that was underway last week. Due in part to the cold fronts this week, the fish appear to have pulled back to main lake ledges or creek channel ledges in the mouth of large bays.
Itís not unusual for the fish to move up quickly when drastic warm spells occur, as was the case two weeks ago. However, some fish have pulled back to main lake areas in 15 to 20 foot zones in response to cooler water.
I had some challenging days on the lake this week and wished some of this brutal weather had come back during ducks season when I really needed it. In spite of the cold weather and wind---and it was very cold some days--- the fish really hit good as my clients and I filled coolers with crappie from main lake ledges.
Depths of 20 to 25 feet produced some hefty fish which fell prey to shiner minnows and some red and chartreuse combo colored jigs. Purple and white also accounted for a few fish as it appeared the dramatic drop in both air and surface temperatures pushed the fish back deep.
A few fish remained in midrange brushpiles and manmade fish attractors this week but the bite was timid as the fish had a mood swing and were not taking a jig or minnow with as much enthusiasm as was the case last week. A few sunny days will see that change back quickly.
Meanwhile, some male crappie were showing slight shades of purple, indicating hormonal changes were underway. Thatís an indicator that spawning phases arenít too far away.
The fish appear to be healthy with bulging stomachs full of shad. Females are sporting eggs too but arenít quite ready to broadcast eggs just yet.
Look for spawning phases to begin in another week to ten days as the recent cool spell has brought the timetable back in line. Generally speaking, crappie spawning here begins in the first week of April but there have been times when unusual warming trends have jumpstarted the annual ritual in late March.
Right now you can find a lot of crappie still in the deep waters of the main lake but itís that time of year when a lot of movement takes place in a short period of time. So, watch for those shallow venues to improve quickly when warm weather returns.
Bass anglers are catching some hefty stringers as the big sows are putting on the feed bag in preparation for spawning just like the crappie.
The rocky banks, gravel points, shallow stumps, and exposed crappie beds are giving up some good bass as anglers work them with a variety of lures, namely spinnerbaits, shallow running crankbaits, jig and pig combos, and some suspending jerk baits.
Some anglers are working Caroline rigs off sloping points and sandbars but the bulk of fish are coming from rocky areas where wind is blowing in and stirring up crawfish and shad.
Popular crankbait choices have been Banditís root beer, dark red and black back, along with bright orange and some crawfish colors. Rapalaís Shad Raps and Bill Lewis Rattle Traps have also been productive. The dingy water in some areas is calling for loud color choices while clearer waters are appealing to shad and dull colors.
A few smallmouth have been taken on the east side of the lake by anglers fishing crankbaits, hair jigs, and some Carolina rigs. The steep bluffs and rocky points which slope off into deep water have produced some bronzebacks this week as the smallies like those cloudy, blistery days if you can tolerate it.
This week has seen overall conditions decline for most anglers as wind and below average temperatures have reminded us just how unpredictable March can be.
Hang in there. Spring will return again soon but donít put that overcoat too deep in the closet until late April.
For The Lake Barkley Report
Click Here
Also check out our past:
Kentucky Lake Fishing Reports
Steve McCadams
Steve McCadams is one of the nation's best known Crappie Fishermen and a full time resident of Paris, Tennessee. Steve is also a professional hunting and fishing guide here in the Paris Landing area.