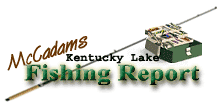 Brought to you by: Fishtale Lodge
Steve McCadams'
Kentucky Lake Fishing Report for:
March 21st, 2008
HIGH WINDS/LAKE LEVELS ESCORT SPRING
Spring has sprung. Gale force winds and heavy rains escorted the change of seasons this week as anglers continue to battle the changing elements of a messy March.
Weather is supposed to mellow as the weekend approaches but high lake levels continues to keep Kentucky Lake off balance as heavy rains both here and to our north have influenced the fishing scene.
Crappie have been on the move but hitting in a variety of depths. Bass have been scattered and moving toward shoreline habitat.
Itís fair to say fish are moving toward shallow areas but remain scattered as changing lake levels have them mixed up.
TVA continues to revise projections of lake stages on a daily basis. A slow fall occurred on Tuesday but heavy rains that night changed everything. Now the Ohio River to our north is flooding and the Mississippi River is high too. That scenario will have an affect on how much water TVA can release in the days ahead.
Anglers were hoping to see a slow drawdown going into the weekend and throughout next week but that remains to be seen.
Itís safe to say Kentucky Lake will have above normal lake levels for another week if not longer.
Lake levels late Wednesday night were in the 360.8 range at New Johnsonville and 361 at Kentucky Dam. Normal elevation for this time of year should be in the 354 range.
A slight fall was expected going into the weekend but TVAís projections have been uncertain all week due to changing circumstances downstream.
Surface temperature is in the 49 to 53 degree range, which is up slightly from last week at this time. Temps have been slow to warm this week as the runoff has brought cool water into the reservoir.
Itís pretty tough to pattern fish with this much change taking place. However, a couple of warm sunny days could improve the whole picture.
Crappie were hitting fair in shallow areas but scattered reports also indicated some fish in midrange stakebeds and brushpiles in 12 go 14 feet. And, some fish were still lingering on main lake drop-offs where depths of 23 feet were giving up some fish that continue to relate to the deep sides of ledges where stumps and brush are located.
Jigs in such colors as chartreuse, florescent red, orange and other loud color variations have been working. And, tipping jigs with live minnows is paying off too.
Dingy water is still prevalent across much of the reservoir with portions of the upper ends of Big Sandy and West Sandy downright muddy. Most of the upper ends of bays are muddy as well but sporting a pretty good color out toward the main lake.
One bright spot for bank fishermen has been the culvert discharge at Big Sandy where a lot of crappie have been taken this week in shallow areas there. The current coming through the culvert from the Big Sandy watershed has really stimulated activity and the high water from Kentucky Lake has backed up to create a good fishing spot.
Most of the crappie were hitting jigs in a wide variety of colors but some anglers were fishing live minnows under bobbers cast in the current and scoring consistent catches.
Action there will likely remain good as long as high water and rainfall team up to produce current.
Bass action has been pretty good with an abundance of shoreline habitat now attracting fish. Tossing a white spinnerbait has been productive lately as anglers are covering a lot of water along shorelines where an abundance of submerged buck bushes and grassbeds are holding fish.
Several feeder creeks are holding a lot of bass at their mouths as runoff has stirred up a lot of sediments and baitfish. Crawfish, fire tiger, and fluorescent orange colored crankbaits and rattletraps have produced. Some suspending jerk baits retrieved slowly have also paid off as have jig and pig combos.
Kentucky Lake will continue to see a lot of changes in the days ahead as anglers try to figure out the whereabouts of meandering bass and crappie.
For The Lake Barkley Report
Click Here
Also check out our past:
Kentucky Lake Fishing Reports
Steve McCadams
Steve McCadams is one of the nation's best known Crappie Fishermen and a full time resident of Paris, Tennessee. Steve is also a professional hunting and fishing guide here in the Paris Landing area.