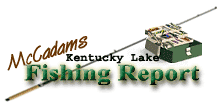 Brought to you by: Fishtale Lodge
Steve McCadams'
Kentucky Lake Fishing Report for:
March 21st, 2003
CRAPPIE ACTION HEATS UP IN SHALLOW WATER
Crappie are headed to shallow water on Kentucky Lake. In fact, many of them are already there, thanks to a week of beautiful weather where temperatures have been somewhat above normal.
Added to the warm weather was a series of calm days earlier this week, which is somewhat unusual for the windy month of March. Meanwhile, trees are budding and birds are whistling. If youíre waiting for the signs of spring to stimulate you toward a fishing trip then wait no longer!
Anglers have enjoyed a good week of crappie fishing with some hefty catches coming from a variety of areas and depth ranges. However, crappie are on the move and the activity has increased dramatically in shallow bays and flats this week due to rapidly rising surface temperatures.
Last weekend surface temperatures in the backwater bays were dancing around the 52 to 54 degree range but by midweek I found readings of 59 to 62 degrees in some areas. Itís somewhat unusual to see the water warm that much in the third week of March but the fish seem to like it just fine.
Fish have really been on the move as the deep ledges of Big Sandy were producing some good-sized fish last week. The productive zones then were in the 16 to 20 foot area but that has changed quickly as the fish begin their prespawn migration to shallow water.
Earlier this week anglers were finding good stringers of fish in the Mansard Island area just south of the TVA power lines and around Sulphur Well Island. West Sandy continues to produce too as the slow trolling techniques are knocking them dead around Britton Ford and Springville pumphouse.
Success has come from the 11 to 14 foot zones early this week but most anglers who are using spider rigs are catching suspended fish in the 8-foot depth range out over the deeper water.
Each year the fish stage in open water in the upper Big Sandy awaiting warmer temperatures. Then, when things get right the crappie move up to spawn around shallow structure.
Richard Williams of Paris has been scoring some good catches this week while slow trolling multi-pole rigs up Big Sandy. In fact, most of the crappie success has come from that area of the lake as the number of boats tells the story.
I was checked Saturday morning by TWRA creel clerk Bill Heathcott about 9 a.m. He had launched his boat at New Hope landing, which is located on the east side of Big Sandy. He had counted 621 anglers already between Little Sulphur and New Hope!
While spawning takes place in the 62 to 66 degree range, crappie are just now entering the shallow spots but each passing day sees an increase in action. The lake has maintained a good, dingy water color these past two weeks and that works in favor of shallow water anglers as it filters the sunlight, bringing fish to shallow shorelines and flats in preparation for spawning.
Not many male crappie have shown the dark phases of hormonal changes just yet but look for that to change this upcoming week. Male crappie will be relating to shallow gravel points, rocky banks, and stumps. Depths of two to four feet will begin to produce.
Already anglers are casting live minnows and jigs under slip bobbers and catching fish from very shallow water.
I found fish aggressive on Wednesday afternoon in stakebeds ranging from four to eight feet. Only a few days before the areas were somewhat void of keeping sized fish.
Popular jig colors continue to be chartreuse combinations where black, purple, red, or orange are used. I also found some fish taking a green pumpkin-pepper fished on an unpainted leadhead.
While my party experimented with such supplements as Berkley Power Bait and live minnows, it seemed the fish liked both. However, the live minnows tipped on jigs sure seemed to entice more strikes than just the jig alone.
Lake elevation in the Paris Landing area was in the 354.3 range at midweek. The elevation is about the same at Kentucky Dam and New Johnsonville this week but expected to rise very slowly.
Boaters and anglers are reminded to use caution this time of year as many shallow stump fields and sandbars are just waiting to attack the lower unit of your outboard. And, the ice this past winter has rearranged some channel markers so several red and green buoys are either gone or sitting in the wrong place.
Bass action continues to improve as the rocky banks and roadbeds are giving up some good fish this week. Angers are tossing crawfish colored crankbaits, along with shad and fire-tiger color to find success.
Jig and pig combos are working, as are some jerk baits and tube skirted baits fished on light line.
Things are changing fast in the fishing world as they always do when spring descends on Kentucky Lake. The fish are on the move and so are the anglers in pursuit of them.
Itís prespawn time for crappie and bass anglers. Warm weather and good fishing reports team up to chase away cabin fever so what are you waiting for? Grab the tackle box and head that way.
For The Lake Barkley Report
Click Here
For Other Kentucky Lake Fishing Reports
Click Here
Steve McCadams
is a professional hunting and fishing guide here in the Paris Landing area and host of The Outdoor Channel's television series IN-PURSUIT.