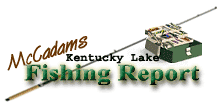 Brought to you by: Fishtale Lodge
Steve McCadams'
Kentucky Lake Fishing Report for:
March 18th, 2005
COLD WINDS DOMINATE FISHING SCENE
(WARMER WEATHER ON THE WAY)
Both crappie and bass anglers have battled high winds and low temperatures this past week on Kentucky Lake. The Ides of March are alive and well as bone chilling breezes have dominated the fishing scene for several days.
Added to the bite of northeast winds has even been a touch of rain, sleet, and snow this week. Yet March is a month full of surprises and all anglers know itís unpredictable weather. Always has been; always will be.
Not to worry, however, as warm weather is on the way. The weather gurus are predicting rising temperatures going into the weekend so things should improve. Hopefully, the warmer weather will decrease the wind some too.
Spring officially arrives on Sunday and it appears some spring weather will escort the new season in with style.
Surface temperatures remained in the 47 to 49 degree range all week. Those cold nights and lack of sunshine didnít allow the water to warm.
Watercolor is in pretty good shape throughout most of Big Sandy and quite clear in some areas. All bays along the Tennessee River are clear as well.
Water levels have been stable this week throughout the reservoir. TVA indicates a slow fall going into the weekend with predictions in the 354.4 range at both New Johnsonville and Kentucky Dam.
The low lake levels will remain until April 1 at which time the annual reservoir filling will begin.
Crappie have been hitting but the high winds have kept anglers from reaching productive water. The main lake ledges are still holding a lot of fish in the 18 to 24 foot zone but it has been almost impossible to fish those areas this week.
Perhaps some calm days are in the forecast and if so, watch for some good stringers to be taken from the deep sides of open water ledges where submerged stumps and brush are holding fish.
Several crappie have also been taken in the midrange depths of 8 to 13 feet. Manmade fish attractors such as stake beds and brush piles have given up some decent fish but anglers are having to make a lot of stops. Fish are scattered in those midrange beds at this time but should increase in numbers as waters warm this next week.
Chartreuse color combinations with some white, pink, blue, and black have worked well lately. Tipping jigs with minnows and Berkley Power Bait has worked well.
Some anglers are casting twister tail grubs and Road Runners too. The slow retrieve of a small bait works well on light spinning gear.
Other techniques such as slow trolling of spider rigs is producing fish too with some decent reports coming from the Sulphur Well Island area up Big Sandy.
I got the rust off my crankbait hooks this week and worked some gravel banks. Bass action was good on both crawfish and shad colored lures. I fooled a 6-pound largemouth into taking a Root Beer colored Bandit crankbait tossed along a gravel bank. My clients landed several chunky bass while casting red bellied crawfish Bandit crankbaits as well.
Bass fishing has been good thus far as anglers toss a variety of lures along big rock bluff and pea gravel points. Crankbaits and jig and pig combos have produced, along with some suspending jerk baits and Carolina rigged lizards or small fluke style worms.
Kentucky Lake gives up some of its largest bass during the month of March each year. There have been some 20-pound plus stringers taken recently in tournaments, a further indication of how hefty some of the fish are at this late winter and prespawn phase.
As surface temperatures warm this next week look for action to improve on other techniques such as slow rolling spinnerbaits around wood.
Other fish action has come from stripers, referred to locally as rockfish. These eating machines have increased in numbers the last few years in Kentucky Lake, due in part to a natural spawn that put a large number of fish in the reservoir.
The rockfish really started showing up the last two years as bass and crappie anglers began landing them. Commercial fishermen also report big numbers entering their nets during the winter months.
Jim Perry of Buchanan has been catching several rockfish the last two weeks while casting various grubs and spoons. He has landed a limit on several days with most fish in the 3 to 4 pound range.
While the fish are fun to catch and good to eat, many anglers are watching the rockfish with explosion with mix emotions. Some like the new comer as he is aggressive and a tackle tester while others wonder what affect the newcomers will have on bass and crappie populations, along with the competition for the forage base.
It will be interesting to watch but on most lakes where the rockfish have been increased in numbers and size, the bass and crappie fishing has declined as to overall catch rates and quality.
For The Lake Barkley Report
Click Here
Also check out our past:
Kentucky Lake Fishing Reports
Steve McCadams
Steve McCadams is one of the nation's best known Crappie Fishermen and a full time resident of Paris, Tennessee. Steve is also a professional hunting and fishing guide here in the Paris Landing area.