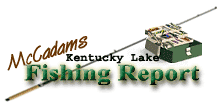 Brought to you by:





March 17, 2011

FISHING FEVER SPREADS AS SPRING ARRIVES…HIGH WATER LINGERS


Spring officially arrives Sunday and the only thing higher than the interest level of anglers is the water level on Kentucky Lake. High water continues to annoy anglers anxious to get out and about.

This late winter transition to early spring has been a rocky road. At a time when warmer temperatures are entering the picture---temps are expected to be in the 70's through early next week---elevation on Kentucky Lake has continued to rise at a steady pace adding a higher hurdle for fishermen.

Presently, Kentucky Lake is some four feet above summer pool elevation and eight feet above normal winter pool. Elevation going into the weekend will be 363.3 at Kentucky Dam. Upstream at New Johnsonville readings are in the 363.5 range. TVA continues to revise its projection on a daily basis.

Surface temps this week started off in the 50 to 53 degree range but will rise several degrees by this weekend and likely reach the 56 to 58 range, thanks to the influence of sunshine and warm weather. However, wind will be a factor as March is known for its gusts that often accompany warming trends.

Water color in the Paris Landing sector around the mouth of Big Sandy and up toward the power lines around Mansard Island area was showing a dingy color but not too bad for fishing. Further up Big Sandy in the New Hope and Country Junction area muddy conditions were present, especially in the gravel pit area while West Sandy wasn't too bad.

The main Tennessee River channel is muddy with current but some of the larger bays are showing dingy but improving water color.

Crappie fishing has been at the mercy of the elements lately as high water and strong winds teamed up some days to challenge fishermen with one or two days of light wind mixed in for a teaser.

Fish have been scattered and on the move, a scenario common for fast rising lake levels. The overdue warming trend will no doubt help the attitude of both fish and fishermen and likely see more crappie moving up from deep drop-offs in the main lake to bays and shoreline habitat that is now inundated with water.

Although crappie hadn't entered shoreline buck bushes and various visible structure at midweek that could change as the warmer surface temps and extended spell of high water will stimulate movement in that direction.

Bank fishermen were catching crappie at the culvert at Big Sandy this week. When high lake levels occur that's a hotspot as the current seems to draw fish to the narrow channel banks.

Action was pretty good there earlier in the week and slowed some at midweek when the lake rose so fast and leveled out, slowing the flow of current there. Watch for action to improve once the lake begins to fall.

At the mouth of Big Sandy near Paris Landing some fish were caught in the 21 to 24 foot zone this week on main lake ledges as anglers worked jigs and live minnows around drop-offs and submerged stakebeds and brushpiles but it was difficult to find any concentration. It has been a one-here, one-there pattern.

Popular color choices have ranged from some loud, florescent combinations such as bubble gum/chartreuse, to green and red variations as dingy water often commands some off the wall shades in the presentation.

Anglers hoping to spider rig, slow troll, or pull long lines have been disappointed as floating debris had a negative impact on those techniques of fishing this past week.

A few crappie began to roam toward midrange depths and were caught in 12 to 15 foot zones at midweek and were likely on the move toward even more shallow areas. Dingy water will warm quicker so fish are likely to continue their journey toward shallow zones in the backs of bays or on main lake flats.

High water can really throw fishermen off keel as what is normally eight feet deep is now 16 feet deep! Making the adjustment as you read the LCR and attempting to figure it out can play tricks on the mind of most any angler.

Most of the crappie are in good shape and sporting hefty stomachs bulging with shad and their prespawn egg sac adds more weight as well.

Bass fishermen are beating the banks with an arsenal of crawfish colored crankbaits, along with loud colored Rattle Traps such as fire tiger, red/black, and florescent orange belly variations.

While the gravel points have been popular locations more bass will be moving up to the original shoreline---now submerged---and occupy submerged buck brush, grassbeds, and trees.

Pretty soon anglers will be pitching and flipping crawfish, jig and pigs, lizards and worms around visible structure as the fish are likely already relating to some shoreline habitat.

Casting Carolina rigged lizards and worms out from sloping points will be popular as well where bass stage before moving up to the pockets and feeder creeks.

Catfish have been hitting pretty good as bank fishermen are scoring. Catfish really move up fast toward muddy creeks during high water.

A lot of change will take place in the week ahead in terms of both weather and water levels. Just when TVA will project a crest and begin pulling more water so as to lower lake stages is still somewhat of a guess.

Once the Mississippi and Ohio Rivers crest look for Kentucky Lake to recede. Presently those rivers to our north are flooded and that prevents TVA from discharging larger volumes of water.

Anglers are dealing with an unusual situation that has the fish thrown off balance too. It doesn't mean fish can't be caught; it means everything is just a bit different.

Stay tuned as March madness continues!


Also check out our past:
Kentucky Lake Fishing Reports

Steve McCadams is one of the nation's best known Crappie Fishermen and a full time resident of Paris, Tennessee. Steve is also a professional hunting and fishing guide here in the Paris Landing area.