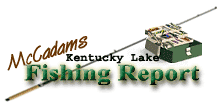 Brought to you by: Fishtale Lodge
Steve McCadams'
Kentucky Lake Fishing Report for:
March 17th, 2006
SPRING CLOSING IN…ANGLERS DEALING WITH CHANGING WEATHER

Bradford Pear trees are screaming spring.
Fishermen's favorite season officially arrives Monday but last weekend it felt like the area had gone from winter to summer and skipped spring.
Anglers have had a variety of weather patterns to deal with this week, ranging from downright hot temperatures last weekend to a cold front and brisk northwest winds earlier this week. And, another cool spell is descending with some rain in the weekend forecast.
It's typical March weather where a few nice days are mixed in there with some nasty ones. Some days are windy and cold but there always seems to be a day of warm sunshine and light winds to stir up the fishing pox and accelerate cabin fever.
Presently, surface temperatures are fluctuating in response to the roller-coaster ride of warm and cold weather. At midweek readings were in the 53 to 56 degree range, down a few degrees from late last weekend when some areas were showing 58 to 60 degrees already.
As normal temperatures ranges return, watch for surface temperatures to hold in the low to mid 50's this weekend and early next week.
Lake levels have been holding relatively stable this week. Observed elevation at Kentucky Dam was staying in the 354.7 range. Upstream at New Johnsonville readings were a bit lower in the 354.3 range.
Watercolor is stained throughout much of the Big Sandy and West Sandy area as a result of recent rains and high winds stirring up sediments. A good stain was also present in the Paris Landing area this week.
Crappie are hitting pretty good and anglers are reporting a variety of depth ranges and techniques which are producing positive results. Up Big Sandy some anglers were finding fish in 6 to 12 foot zones relating to structure such as stakebeds and brush piles.
A few fish were caught as angles slow trolled spider rigs or pulled long-line presentations of jigs in hopes of catching suspended fish.
Several success stories were also coming from anglers who vertical fished manmade fish attractors in 7 to 13 feet. Dipping jigs around the submerged structure continues to pay off with popular colors ranging from the pink and pearl to orange and chartreuse. Other popular choices were red and chartreuse and black and pearl.
In the mouth of Big Sandy a lot of fish are still lingering on the main lake ledges in depths of 15 to 20 feet. The crappie are relating to structure found on the edge of drop-offs in a typical staging pattern of prespawn phases.
Deep water crappie were taking shiner minnows and a variety of jig colors when worked slowly around stumps and brush. I experimented with a host of tube jigs and had the most success on a florescent red leadhead sporting a chartreuse body filled with red glitter.
The fish are waiting for surface temperatures to rebound and will continue to move up toward midrange depths this next week. A few fish already moved into creeks and flats late last week during the warm spell but structure in the 6 to 13 foot zones in the Paris Landing area was giving up only scattered success. It was a one-here and one-there type fishery in manmade fish attractors the last several days but that will continue to improve in the days ahead, barring drastic weather changes.
Bass anglers were also benefited from the warm spell last weekend and found fish hitting spinnerbaits and shallow running crankbaits. Some fish were taken around exposed stumps, logs, and exposed crappie beds.
A few hefty fish were taken, holding up to the reputation of March as being one of the best months to take big bass here on Kentucky Lake.
Crankbaits were producing around gravel banks and big rock points. Popular colors have been crawfish, firetiger, orange and Tennessee Shad, along with chartreuse and black variations. Rattle-traps and suspending jerk baits have produced too when worked around boathouses and piers.
Up Big Sandy and in West Sandy dingy water color has been favorable to some loud colored crankbaits while over on the Tennessee River area waters have cleared some.
Cooler weather is predicted for the weekend and while anglers thrived in last week's warm weather invasion, temperatures are returning to their normal range this week which isn't all bad for fishing in general. Actually, things were getting ahead of schedule in terms of fish movement and the biological clock was running a bit too fast.
While no one likes cold fronts this time of year, they tend to bring surface temperatures back to normal ranges and slow down the migration of fish from deep to shallow venues. Things work best when done on a gradual basis in terms of spring spawning phases and last week's hot weather was a bit too much and too early, confusing the fish and the fishermen to some degree.
For The Lake Barkley Report
Click Here
Also check out our past:
Kentucky Lake Fishing Reports
Steve McCadams
Steve McCadams is one of the nation's best known Crappie Fishermen and a full time resident of Paris, Tennessee. Steve is also a professional hunting and fishing guide here in the Paris Landing area.