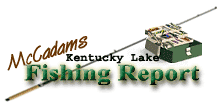 Brought to you by: Fishtale Lodge
Steve McCadams'
Kentucky Lake Fishing Report for:
March 16th, 2007
CRAPPIE BLITZ TOWARD SHALLOW VENUES...BIG BASS BITE CONTINUES
Above average temperatures have greeted anglers in the Kentucky Lake area for well over a week, even though a cool spell is in the forecast as the weekend approaches. In addition to warm sunny days relatively calm winds have offered good fishing opportunities.
Most anglers know March can be a mean month. However, thus far it has been kind to bass and crappie anglers who have gotten a head start on spring fishing patterns for the last two weeks. Spring officially arrives next Wednesday, March 21 yet the fish have been somewhat ahead of schedule as to their movement and moods.
Surface temperatures this week have climbed to the 57 degree mark in many portions of Kentucky Lake and especially here in the Big Sandy sector. Water color has been quite clear.
Lake levels have been falling this week on a steady basis as the reservoir had been some two feet above normal for most of the month. TVA projections going into the weekend will be 355.2 at Kentucky Dam. Upstream at New Johnsonville and in the Paris Landing area lake levels are lower with readings in the 354.7 range.
Crappie fishing has improved this week and action is good as fish move toward shallow areas in a prespawn phase. Significant improvement has taken place in the 5 to 8 foot depth range the last few days as a lot of fish have made a blitz this week is response to the rising surface temperatures and great weather.
Areas that were offering very few fish last week at this time are rapidly changing. Shallow stakebeds, stumps, and brushpiles are holding good numbers of fish.
While several anglers continue to find scattered and suspended crappie in the main lake area of Big Sandy and south near the Mansard Island sector around the TVA power lines, watch for midrange depths to continue to attract moving crappie this next week as the fish draw closer to spawning time.
This week anglers working the main lake ledges were finding some fish in the 18 to 24 foot zones. Fish in the deeper areas were relating to structure some days but other anglers drifting, pulling long line presentations of jigs, and slow trolling spider rigged jigs and minnows were finding fish suspended in the 18 to 20 foot zone out over 25 foot depths in the main channel of Big Sandy.
Itís that time of year when fish are really on the move and a variety of depth ranges and techniques produce results as do different sections of the lake. Earlier this week manmade fish attractors in the upper portion of Big Sandy around New Hope and into West Sandy were giving up some good stringers. Popular depths were 9 to 12 feet but fish have moved up since then.
A few anglers were also casting jigs over shallow submerged structure as the clear water made it tough to vertical fish without spooking the fish. Using casting bobbers and just slow straight retrieves of curly tail pearl, chartreuse, and June bug colored grubs was producing well.
I found some good numbers of fish on shallow stakebeds at the last two days taking white and chartreuse tube jigs fished in a vertical presentation. A light wind with some cloud cover allowed good conditions for fishing the shallow venues and fish hit very well.
The approaching cool front will likely see action back off some for a day or two as north winds are expected to drop temperatures12 to 15 degrees the next few days. While the crappie have almost gotten ahead of schedule this week due to the extended spell of warm weather and rising surface temperatures, watch for the transition to slow down some until early next week when warm weather returns.
Male crappie have not shown drastic changes in color yet so hormonal changes havenít seen spawning begin but watch for males to darken next week as they head toward shallow structure and gravel banks.
Females are sporting hefty egg sacs at this time so all the signs are pointing toward an early spawn that in the event warm weather returns and dominates next week. Spawning usually takes place once surface temps reach the 62 to 66 degree range with some stability.
Bass action continues to hold up well as hefty stringers are coming in on a regular basis. Some nice smallmouth have shown up this week in addition to the heavy stringers of largemouth that have been common for over two weeks running.
Those gravel banks and big rock points have really produced lately with several fish in the 5 to 7 pound range being caught.
Popular patterns have been working sloping rock banks and bluffs with such lures as crawfish and shad colored crankbaits, rattletraps, and suspending jerk baits.
There have been some fish in the upper ends of big bays chasing shad too. Sometimes the submerged grass and open mud flats harbor a lot of baitfish and in those scenarios no structure is much of a factor as the fish are running the forage in open areas.
March has traditionally been the best month to catch big bass here on Kentucky Lake and this year has been right on track. Watch for some topwater action and spinnerbait patterns to enter the pattern by next week too.
For The Lake Barkley Report
Click Here
Also check out our past:
Kentucky Lake Fishing Reports
Steve McCadams
Steve McCadams is one of the nation's best known Crappie Fishermen and a full time resident of Paris, Tennessee. Steve is also a professional hunting and fishing guide here in the Paris Landing area.