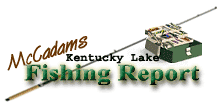 Brought to you by: Fishtale Lodge
Steve McCadams'
Kentucky Lake Fishing Report for:
March 14th, 2008
HIGH WATER LEVELS CHALLENGING ANGLERS
Fishermen had a dose of both winter and spring conditions the last seven days. Not only have temperatures changed drastically but so have lake levels.
Warm weather has returned after last weekend's snow and cold front brought a temporary hiatus to fishing. Sunday the sunshine returned and the last few days have been nice to anglers with light winds and warming temps. The last three days have seen temps climb into the upper 50's with a brief visit to the upper 60's.
Crappie are still hitting pretty good in deep water as main lake ledges are holding the bulk of fish right now. Depths of 18 to 23 feet have been producing well in the Paris Landing sector. Some shallow fish were being caught in the upper Big Sandy and in West Sandy.
Most of the fish around Paris Landing are being taken by anglers vertical fishing jigs and minnows on double hook bottom bumping rigs. Some are just tightlining jigs however with results while a few boats were slow trolling and drifting jigs over main lake ledges.
It appears fish have scattered some the last few days as the high lake levels linger.
I've had some pretty good days lately with a good grade of fish showing up. Each day we've managed to take a 2-pound plus slab in the creel with a lot of fish being caught in the 1-pound plus range. Overall the fish are sporting a hefty profile with what appears to be an abundance of shad present.
Surface temps on Monday were in the 47 degree range but on Wednesday I found some water in the 50 to 52 degree range. Conditions were warming fast at midweek.
Water color is dingy across most of the reservoir. Some bays are muddy in the upper end as runoff from recent rains and snow melt have really added color to the water. Upper Big Sandy is muddy with stain in West Sandy as well. The Paris Landing area is very dingy in the main lake but the mouth of Big Sandy is sporting a good stain for fishing.
Lake levels continue to dominate the talk among anglers as the present elevation at New Johnsonville was supposed to crest at 360.4 on Thursday. At Kentucky Dam lake stages are in the 360.4 range. Those reading are about 6 feet above normal for this time of year! (Normal winter pool is 354 and summer pool is 359).
Heavy rains and snow melt have contributed to the recent rise in lake levels, along with high water now present on the Ohio River and parts of the Mississippi River. Since the Tennessee River flows north our discharge at Kentucky Dam is often influenced by water levels on these waterways.
It's likely TVA will begin pulling water as soon as possible. However, both the fish and the fishermen have been somewhat surprised by the drastic change in lake stages this week.
Often times quick increases in lake levels will scatter fish but it appears crappie have stayed put on the deep sides of drop-offs this week. The fish are pretty much keying in on deep structure as cold surface temps have likely kept the bulk of baitfish in that locale.
Warming temps could see some fish move up in the days ahead. Once surface temps climb to the low to mid 50's for a few days look for more fish to move up to midrange and shallow areas. However, also important in the fishing forecast will be lake levels as TVA is likely to pull a lot of water in the days ahead in order to get the reservoir back down to near normal elevation.
Should that occur falling lake levels will likely keep the bulk of the crappie population in deep water.
A lot of floating debris was present at the mouth of Big Sandy and scattered along the main river channel in the Tennessee River. Boaters are urged to use caution as those floating logs and trees can be dangerous.
Watch for the crappie to linger in deep water for a few more days but begin staging in preparation for the early prespawn phases where a migration toward shallow zones takes place.
Bass action has been good on the warm days but seems to fall off when cold conditions return. The last week or so anglers have had some of both.
Yet some hefty stringers were taken last weekend in a variety of patterns that produced some dandy smallmouth as well.
Crawfish, fire tiger, and fluorescent orange colored crankbaits have produced on rocky and gravel banks. Some suspending jerk baits retrieved slowly have also paid off as have jig and pig combos.
Carolina rigged worms and lizards are accounting for some fish too as the sloping points are seeing some fish hang out near deeper water.
A few fish have taken jigging spoons around main lake ledges when current is present.
March is probably the best month of the year to take trophy bass here on Kentucky Lake. Often times those nasty days produce some nice fish!
For The Lake Barkley Report
Click Here
Also check out our past:
Kentucky Lake Fishing Reports
Steve McCadams
Steve McCadams is one of the nation's best known Crappie Fishermen and a full time resident of Paris, Tennessee. Steve is also a professional hunting and fishing guide here in the Paris Landing area.