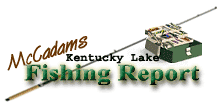 Brought to you by: Fishtale Lodge
Steve McCadams'
Kentucky Lake Fishing Report for:
March 14th, 2003
WARM WEATHER IMPROVES FISHING ACTIVITY
Fishing continues to improve on Kentucky Lake as warmer weather has entered the picture. Anglers are welcoming the spring-like weather with open arms after enduring a miserable month of February.
Crappie action is improving daily as anglers continue to find fish in the West Sandy area near Springville pumphouse, Pleasant View Resort, and Britton Ford launch ramp.
Depths of 8 to 12 feet have been producing there lately as the bulk of anglers are slow trolling jigs and minnows in a spider rig style presentation. The multiple pole menu is dominating the technique as to prespring success in this area and across much of Kentucky Lake.
The fish appear to be suspended in that region with anglers trolling in an attempt to cover more water with a wide presentation of baits. Some boats are sporting 8 to 10 rods or more as they move around and zone fish.
Down near the power lines at Mansard Island and north toward Paris Landing the fish appear to be somewhat deeper. However, a few anglers are finding a fish now and then in shallow, manmade fish attractors such as brush and stakebeds in 6 to 12 feet.
Out on the middle of Big Sandy the main lake ledges are producing fish in the 14 to 20 foot zones. There are a lot of small fish being caught. Yet some good size fish are mixed right in there with them.
Double hook bottom bumping rigs are working fair as anglers fish live minnows. Jigs are working well too and some anglers are fishing jigs exclusively while tipping them with Berkley Power Bait.
Popular colors have been red, purple, black, and orange with some sort of chartreuse combination. Painted leadheads are also popular right now in a variety of florescent colors as the dingy watercolor is common throughout most of the area right now.
Observed lake elevation in the Paris Landing area was close to the winter pool mark of 354 at midweek. Similar readings are reported at Kentucky Dam.
Surface temperatures are beginning to climb but are just now reaching the 50-degree threshold. Earlier this week surface temperatures were lingering in the 43 to 46-degree range but look for readings to hit the 50 to 54-degree range this weekend if sunshine continues.
Bass anglers are seeing improvement as well with a combination of lures paying off. Jig and pig combos in the brown and orange are working, along with tube-style baits fished slowly around rock banks.
Crankbaits in the fire tiger color and crawfish shades are producing too.
Once the surface temperature climbs above the 50-degree mark look for a significant improvement.
Warmer weather has arrived and fishing is improving.
For The Lake Barkley Report
Click Here
For Other Kentucky Lake Fishing Reports
Click Here
Steve McCadams
is a professional hunting and fishing guide here in the Paris Landing area and host of The Outdoor Channel's television series IN-PURSUIT.