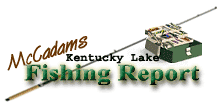 Brought to you by: Fishtale Lodge
Steve McCadams'
Kentucky Lake Fishing Report for:
March 11th, 2005
Crappie and bass action continues to hold up well for anglers getting an early start on spring fishing.
Some dandy bass stringers were taken this past week here on Kentucky Lake and several tournaments have gotten off to a good start. In times past late February and early March bass fishing has been the victim of cold weather but this year seems to be ahead of itself in terms of productivity and early spring patterns.
Several 5-fish limits have been weighed in the last two weekends during tournaments. Winning stringers have been tipping the scales at 16 to 17-pounds plus.
Successful anglers have credited the gravel and chunk rock banks where crankbaits, jig and pig combos and some slow rolling spinnerbaits have produced. And, a few anglers are crawling a Carolina rigged lizard or worm and fooling some fish.
Other lures producing have been suspending jerk baits.
Crappie anglers are finding some fish moving up on the sunny days. Depths of 8 to 12 feet have yielded some pretty good fish this past week in Big Sandy and West Sandy. Several fish were taken in the Sulphur Well Island area too. Some fish are coming from anglers slow trolling jigs but others are finding action while vertical fishing jigs over stakebeds and brushpiles.
The mouth of Big Sandy around the Paris Landing area has seen some improvement in the main lake ledges where depths of 18 to 22 feet produced some scattered fish. Live minnows and some jigs were working in the deep water.
Watercolor is in good shape with some clearing since last week. Surface temperatures are lingering in the 47 to 49 degree range.
Cooler weather returned at midweek, accompanied by north winds that delivered below normal temperatures for a few days. The weekend forecast could see surface temperatures rise slightly if sunshine returns and warmer nights enter the picture.
Kentucky Lake has been falling slowly all week but TVA predicts stability throughout the weekend. The New Johnsonville area will remain in the 354.7 range for the next few days while elevation at Kentucky Dam is slightly lower with readings in the 354.3 range.
This is the time of year when cold weather and a few warm sunny days trade places during the week. If you're fortunate to hit a day with light and variable winds the action can be pretty good.
Watch for improvement this next week in the bass and crappie department if the cold fronts ease up and allow some spring weather to return.
For The Lake Barkley Report
Click Here
Also check out our past:
Kentucky Lake Fishing Reports
Steve McCadams
Steve McCadams is one of the nation's best known Crappie Fishermen and a full time resident of Paris, Tennessee. Steve is also a professional hunting and fishing guide here in the Paris Landing area.