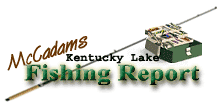 Brought to you by:




March 10, 2011

ROLLER COASTER LAKE TAKES ANGLERS FOR RIDE


Water is up in the buck bushes. For Kentucky Lake anglers thatís not supposed to happen until early May but a rash of heavy rains have swelled lake levels some five feet above normal.

Still, a few success stories from crappie and bass anglers are coming in. Despite rapid changes in lake stages that have continued all week, it seems a few fishermen are rising to the challenge.

TVA continues to revise its forecast on a daily basis as to projections on elevation. After severe thunderstorm drenched the area last week more rain arrived this week, falling on an already saturated watershed that sent creeks raging with flow into Kentucky Lake.

Elevation at Kentucky Dam is projected to be 358.8 going into the weekend while upstream at New Johnsonville higher water levels are expected to reach the 360 mark. TVA is spilling water through Kentucky Dam at a high rate but the bottom line is that water has been entering the reservoir faster than itís going out.

Normal lake levels for this time of year should be in the 355 range or slightly lower.

Also influencing the high lake levels are flooding conditions along the Ohio River.

Although many areas of Kentucky Lake---such as the upper Big Sandy and West Sandy sectors---are seeing muddy water move in, the mouth of Big Sandy near Paris Landing was sporting a dingy color but not too bad for fishing.

The backs of most bays are muddy, however, as the runoff really brought a lot of sediments into most feeder creeks.

Watch for TVA to really pull the plug by next week, assuming more rain doesnít enter the picture. Expect a lot of current on the main Tennessee River channel for the next week or so.

Surface temps have danced around the 49 to 53 degree range this week but could moderate even more as mild temperatures are in the forecast.

Crappie were coming from main lake ledges this week where anglers were working the deep drop-offs. Finding structure in the 18 to 20 foot depth range was a popular place earlier in the week but with rising lake levels better add another two or four feet to that this weekend.

March winds have been a factor. Anglers are lucky if light and variable conditions last more than a day or two this time of year.

A cold front at midweek delivered northwest winds that hampered anglers trying to fish open water. The weatherman indicates warmer days are on the horizon but wind will continue to be a hurdle.

Bouncing double hook bottom bumping minnow rigs was paying dividends as were 1/8 and ľ-ounce jigs tightlined in and around the structure. Tipping jigs with a minnow seemed to help.

With dingy water entering the picture look for a variation of color choices to produce as the loud, fluorescent reds, greens, and orange combos may replace the dull colored skirts and unpainted leadheads.

Often times the crappie will stay put for a few days and continue to linger on main lake ledges, despite quick changes in lake levels. However, the longer the water stays high the more fish are likely to scatter and move up toward shallow venues as muddy water will warm up quicker.

Once lake levels start falling watch for main lake ledge fishing to improve even more as the fish seem to fall back to spots adjacent to deep water when rapid drawdown occurs.

Traditionally, crappie begin moving up toward midrange depths by mid-March and that could still happen if warm weather influences surface temps next week as the reservoir crests or remains high for a few days.

Odds are TVA will attempt to drop lake levels fast and pull the reservoir back to its normal winter curve so as to create more storage capacity.

Bass were moving up rather fast and occupying mouths of feeder creeks and ditches where runoff entering the main lake was washing in lots of food.

Muddy water in backs of creeks was giving in to a dingy color in the middle of large bays where anglers were tossing some loud colored crankbaits in the firetiger, fluorescent red and black combo, orange and white with some green and sliver. And, some red or orange belly crawfish colors were producing too.

While the Paris Landing area and further north had seen most bass relating to rock and gravel habitat itís likely some fish will move up to shoreline structure or perhaps stage on some points near shoreline cover.

Further south on the Tennessee River anglers had been fishing some dead grass that is now submerged. Rattle traps and suspending jerk baits where producing in that aquatic pattern.

Watch for rapid change throughout the weekend and into next week as the roller coaster ride of lake levels continues. Water color, lake elevation, and weather will team up to alter the patterns of both bass and crappie in the days ahead but adjusting seems to always work for a few anglers who figure it out on a daily basis.


Also check out our past:
Kentucky Lake Fishing Reports

Steve McCadams is one of the nation's best known Crappie Fishermen and a full time resident of Paris, Tennessee. Steve is also a professional hunting and fishing guide here in the Paris Landing area.