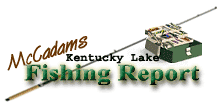 Brought to you by: Fishtale Lodge
Steve McCadams'
Kentucky Lake Fishing Report for:
March 10th, 2006
WINDY AND WARM CONDITIONS GREET ANGLERS
Anglers have welcomed warmer weather this week on the local fishing scene.
March Madness, often used to describe the season ending basketball tournament fury, has a different connotation here on Kentucky Lake. For fishermen the March Madness is dealing with gale winds!
While anglers have welcomed the warm up in temperatures, it has come at the price of high winds from the south. Whitecaps covered the open waters several days this week, making it tough for anglers to work open water spots for crappie and bass.
This is the time of year when fishermen get a couple of nice days sandwiched in-between messy ones. Itís just that time of year.
Meanwhile, surface temperatures are responding to warmer days. Earlier this week the surface temperatures creped past the 50-degree mark for the fist time this year. Some shallow areas were warming to the 52-degree range on Wednesday while the main lake was resting in the 49 to 50-degree range.
Look for surface temperatures to reach the mid 50ís by this weekend as mild weather is in the forecast.
Water levels remain relatively stable as Kentucky Lake has been resting at the winter pool mark this week. Elevation is predicted to be 354.7 going into the weekend at Kentucky Dam. Upstream at New Johnsonville elevation will be slightly lower at 354.4, based on TVA projections.
Crappie have been taken this week in a variety of depths, a further indication that fish are on the move and responding to warming surface temperatures. Up Big Sandy and into West Sandy anglers were taking fish in 9 to 13 foot depths. Some dingy water is present there, which tends to give fish a comfort zone in shallow areas.
Techniques such as slow trolling spider rigs and long-lining were working well. Fish were somewhat scattered and suspended in West Sandy but a few limits were taken as anglers covered a lot of water to catch suspended fish.
Down near the mouth of Big Sandy and around Mansard Island area some fish were relating to stakebeds and brush piles in 9 to 13 foot depths. Popular jig colors continue to be pink and white combos, along with some orange and chartreuse and black and pearl. Tipping jigs with minnows and assorted scent attractants has also helped.
In the Paris Landing area most of the crappie were still relating to main lake ledges in depths of 18 to 24 feet. Fish were taking jigs tipped with minnows.
A few fish were moving into structure found in 11 to 14 feet but scattered. Watch for an improvement in shallow areas in the week ahead as surface temperatures warm.
Bass action improved this week around rock points and shallow structure. Anglers were finding fish taking crawfish and Tennessee Shad colored crankbaits worked slowly on sloping gravel and rock banks.
Some suspending jerk baits accounted for a few fish as did Carolina rigged lizards on points and roadbeds.
A few fish were taking brown and orange jig and pig combs tossed around boat docks and visible stumps and logs.
Action will continue to improve this weekend and into next week as warmer water stimulates activity in shallow water. Rain is in the forecast so watch for stained water to enter the picture where feeder ditches and runoff bring in fresh water.
High winds have also stirred up some dingy water on main lake points in the Big Sandy and Tennessee River. Not many smallmouth were showing up this week but that could change quickly.
For The Lake Barkley Report
Click Here
Also check out our past:
Kentucky Lake Fishing Reports
Steve McCadams
Steve McCadams is one of the nation's best known Crappie Fishermen and a full time resident of Paris, Tennessee. Steve is also a professional hunting and fishing guide here in the Paris Landing area.