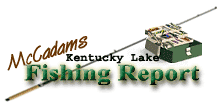 Brought to you by: Fishtale Lodge
Steve McCadams'
Kentucky Lake Fishing Report for:
February 3rd, 2006
Kentucky Lake anglers continue to benefit from the mild winter weather. In fact, the National Weather Service indicates the January just past was the warmest on record in the Nashville region.
That drove duck hunters nuts but it was well embraced by winter fishermen in this area.
Crappie have been hitting good and a variety of depths have yield some dandy stringers lately. Most of the fish appear to be relating to deep structure out on main lake ledges.
Depths of 18 to 25 feet have produced some pretty good fish this past week. Baits of choice have been both live shiner minnows and assorted colors of tube jigs fished down in the cover.
A combination color of purple and chartreuse worked well for Jim "recently retired" Perry of Buchanan who landed some fish eclipsing the two-pound mark earlier this week. The slabs came from the mouth of the Big Sandy River where Perry was fishing some of the late guide Walter Murray's old honey holes.
Elsewhere anglers are finding some fish on submerged stakebeds and brushpiles in 11 to 13 foot depths in the Mansard Island area and up in West Sandy.
Water color has been dingy lately but is clearing rapidly. However, more rain is in the forecast so some stain may return to portions of the lake.
Lake elevation was changing dramatically late last week and earlier this week. The reservoir jumped up in elevation some four feet last week in the aftermath of heavy rains but dropped quickly as TVA really pulled the plug.
After the up and down ride last week, present lake stages are 355.1 at New Johnsonville and 354.7 at Kentucky Dam. Watch for lake levels to rise slightly going into the weekend and early next week if predicted rainfall arrives.
Surface temperature has been in the 46 to 49 degree range.
Sauger fishermen are not reporting much in the way of big fish. Still a few small ones showing up in the Paris Landing area and further south to Danville Bridge and up near New Johnsonville.
For The Lake Barkley Report
Click Here
Also check out our past:
Kentucky Lake Fishing Reports
Steve McCadams
Steve McCadams is one of the nation's best known Crappie Fishermen and a full time resident of Paris, Tennessee. Steve is also a professional hunting and fishing guide here in the Paris Landing area.