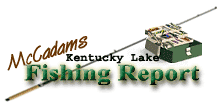 Brought to you by: Fishtale Lodge
Steve McCadams'
Kentucky Lake Fishing Report for:
February 29th, 2008
LAKE LEVELS FALLING BACK TOWARD WINTER POOL...CRAPPIE ACTION PRETTY GOOD WHEN WIND/WEATHER COOPERATE
Lake levels have been falling all week as Kentucky Lake slowly heads toward its normal winter pool elevation in a year when the reservoir has been above normal for almost three months.
Expect lake levels to be in the 355.4 range the by Saturday in the Paris Landing and New Johnsonville area, which is down almost three feet from a week or so ago at this time. TVA predicts levels of 355.5 at Kentucky Dam this weekend.
Presently, crappie anglers are having some decent catches on days when light winds and mild temps have allowed access to main lake areas where most of the fish are residing. Two weeks ago anglers were finding a lot of fish scattered as high lake levels at the time were seeing fish move up toward 9 to 14 foot depths but this week most of the fish are back on a structure-oriented pattern and relating to deep ledges.
A lot of boats were out last weekend and today (Thursday) as relatively light winds and moderate temps later in the day allowed for a nice day of winter fishing here in the Paris Landing area.
Popular depths the last few days have been 18 to 24 feet where deep sides of drop-offs have been productive when stumps or brush are located. Those irregular bends, humps, and cuts along the ledges are often winter homes for deep water crappie and that seems to be the case right now.
Falling lake levels often pull fish back to deeper venues and that appears to be underway at this time. However, a warming trend and stable levels levels later this week could see fish move up quickly as baitfish respond to warmer water and move up, bringing the crappie and bass with them.
Some fish were coming from shallow zones up Big Sandy and into West Sandy, however, as those areas are usually not as deep anyway and fish can often be found in manmade stakebeds and brushpiles in 8 to 12 feet even when fish are deeper elsewhere in the reservoir.
Most anglers are tightlining jigs in such color choices as blue/pearl, grape/chartreuse, pink/chartreuse, and even some light yellow with red metal flake, just to name a few. Some are still having success with live minnows and tipping jigs with small minnows to entice bites as well.
Water color has cleared this week in many bays since falling lake levels have pulled much of the stained water out to the main river. Surface temps were ranging from the upper 30's to mid 40's.
Some cooler weather and wind is predicted for the next few days with a moderation in temps by the weekend.
Bass action has diminished this week as cooler surface temps and inclimate weather have likely slowed the bite. However, Saturday afternoon some anglers reported improvement from the morning bite as warm sunshine seemed to help as a few fish were hitting around gravel and rock banks.
Crankbaits, jig and pig combos, and some suspending crankbaits were accounting for a few light strikes from smallmouth and largemouth.
For The Lake Barkley Report
Click Here
Also check out our past:
Kentucky Lake Fishing Reports
Steve McCadams
Steve McCadams is one of the nation's best known Crappie Fishermen and a full time resident of Paris, Tennessee. Steve is also a professional hunting and fishing guide here in the Paris Landing area.