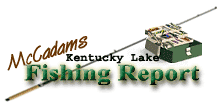 Brought to you by: Fishtale Lodge
Steve McCadams'
Kentucky Lake Fishing Report for:
February 28th, 2003
Fishing conditions have been tough as winter weather continues to deal the cards. Last week there were some success stories from crappie anglers up in West Sandy and near Sulphur Well Island.
There was a day or two where light winds let anglers stalk the main lake but wind and rain quickly returned. Then, on Tuesday anglers woke up to another day of snow and ice. Roads were slick and boat ramps were not the place to be. Wednesday saw sleet and cold conditions linger.
Although inclimate weather conditions have dominated the fishing scene, some anglers are braving the elements and finding decent colored water where crappie are hitting.
Kentucky Lake is falling fast as TVA is really pulling water through the reservoir system after all the flooding upstream. Many east Tennessee reservoirs are seeing record high elevations for this time of year.
Locally, there is a lot of current in the main river and even in the mouth of Big Sandy. Elevation this weekend is expected to be 357.7 in the New Johnsonville area.
At Kentucky Dam the reservoir is still more than three feet lower than the New Johnsonville reading. Elevation is predicted to be 354.5 by this weekend at the dam.
The significant difference indicates a drastic amount of water coming down the Tennessee River that is spreading out once it passes the Danville railroad levee area. The lake is much wider and the lower third sector allows the water to spread out more.
While there's a lot of muddy and dingy water in the main river area, anglers have found some decent colored water up Big Sandy around the power lines and also in West Sandy.
Crappie have been in the 12 to 14 foot zones lately with most of the success coming from anglers slow trolling grape and chartreuse jig skirts mounted on yellow and pink colored leadheads.
Other colors producing have been blue and white combos, along with yellow sporting red metal flake. Jigs sizes are running in the 1/16 to 1/8 ounce size.
Action has been slow at the mouth of Big Sandy and in the Paris Landing area as the main lake ledges have been difficult to reach. Cold wind and muddy water have been a factor there lately but watch for that to change dramatically and improve.
Many anglers are still sitting on ready in hopes the weather will settle down. A slight warming trend with some light winds is all it takes this time of year to get things going.
With TVA drawing the water down rapidly, anglers can expect a lot of the muddy water to move out fast. So, watch for things to improve quickly this next week.

For The Lake Barkley Report
Click Here
For Other Kentucky Lake Fishing Reports
Click Here
Steve McCadams
is a professional hunting and fishing guide here in the Paris Landing area and host of The Outdoor Channel's television series IN-PURSUIT.