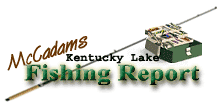 Brought to you by: Fishtale Lodge
Steve McCadams'
Kentucky Lake Fishing Report for:
February 27th, 2004
This week's fishing report has angler's hoping for less wind. However, moderate temperatures have been hanging around for several days, causing local anglers to pace the floor with anticipation.
Kentucky Lake has been falling slowly this week as observed lake stages in the Paris Landing sector were dancing around the 355-elevation mark. Downstream at Kentucky Dam the lake levels were slightly lower with readings of 354.7 reported at midweek.
Surface temperatures were in the 43 to 46 degree range throughout most of the reservoir. Watercolor was still sporting a little stain throughout Big Sandy and in the main stream of the Tennessee River. Many of the larger bays were clearing but most all of the area had a decent dingy color for good fishing.
Overall action from the crappie department has been slow lately. Not many anglers were out at midweek due to high winds but earlier in the week the fish were stubborn and scattered, according to most anglers.
Several boats were testing the water in West Sandy this week and dodging the wind around the Britton Ford area and west toward Springville pump house. Most boats were slow trolling with multipole presentations.
Some anglers reported marking fish on their LCR units but very few bites were found, as the fish were somewhat reluctant to take either jigs or live minnows.
A few boats were attempting to work the main lake ledges and stalk the 18 to 24 foot zones near the mouth of Big Sandy River. Action there was also slow, as only a few small fish were taken with keeper size crappie somewhat scarce.
Action will likely improve in the week ahead if winds settle down. The fish seem to be somewhat confused lately and haven't been concentrated. Anglers are hoping things improve this week as the month of March rolls around and spring draws near.
Bass action wasn't too bad lately as some fish were taking jigs and slow moving crankbaits tossed around rocky banks and bluffs.
A few fish were coming off logs or piers of boathouses in the backs of bays too.
Some scattered reports of sauger taken around the old Danville railroad bridge and further south near the mouth of Duck River came in at midweek. Seems several small sauger are hitting but those making the minimum length limit are somewhat scarce.
For The Lake Barkley Report
Click Here
Also check out our past:
Kentucky Lake Fishing Reports
Steve McCadams
Steve McCadams is one of the nation's best known Crappie fishermen and a full time resident of Paris Tennessee. Steve is also a professional hunting and fishing guide here in the Paris Landing area.