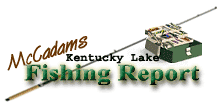 Brought to you by: Fishtale Lodge
Steve McCadams'
Kentucky Lake Fishing Report for:
February 25th, 2005
High water entered the picture this week for area anglers at Kentucky Lake. In the aftermath of heavy rains last weekend across the TVA valley, lake levels have been rising dramatically all week.
Last week the reservoir was down near winter pool but the lake has been rising almost a foot each day this week. TVA indicates the reservoir should crest early this weekend near the summer pool level of 359 at New Johnsonville and begins falling.
Lake levels at Kentucky Dam are somewhat lower with readings in the 357.8 range. The difference in the two readings indicates a lot of water is flowing through the system so anglers can expect a lot of current for the next several days in the Tennessee River channel.
Watercolor is muddy in the main channel of the Tennessee River and most of the Big Sandy basin has a lot of stain too. A cold front at midweek pulled surface temperatures back in the mid 40ís range.
Crappie action slowed for most area anglers this week due to the rising lake levels, cold winds, and muddy water.
Things should start improving soon, however, as falling lake levels this weekend will begin to pull a lot of the muddy water out into the main Tennessee River channel. Anglers will see relatively stained water for a few more days but clearing should occur by early next week, barring any more heavy rainfall.
Some fish will move up into bays and secondary flats this week as rising waters often scatter fish and send them roaming to shallow areas. Look for some fish to move into 10 to 13 foot areas this week in the Paris Landing area and 7 to 10 foot zones up West Sandy.
Drifting and slow trolling techniques will likely work best this week during the rising lake levels and high water.
Popular jig colors will be loud or fluorescent skirts and painted leadheads. Orange and red, yellow and pink, and other eye-catching colors will likely produce best in the dingy water.
Some bass are showing up on rock banks and rip-rap where anglers are tossing jig and pig combos and slow moving crankbaits. Crawfish colors and loud orange shaded baits will produce this week around muddy water points and rocky banks.
For The Lake Barkley Report
Click Here
Also check out our past:
Kentucky Lake Fishing Reports
Steve McCadams
Steve McCadams is one of the nation's best known Crappie Fishermen and a full time resident of Paris, Tennessee. Steve is also a professional hunting and fishing guide here in the Paris Landing area.