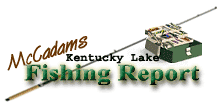 Brought to you by: Fishtale Lodge
Steve McCadams'
Kentucky Lake Fishing Report for:
February 24th, 2006
Fishing is on the rebound after last weekendís brutal cold snap that dropped temperatures to the single digits in surrounding areas on Saturday night. Snow and ice dominated the weekend too and kept anglers off the lake.
Things changed quickly at midweek, however, as temperatures climbed back into the mid 50ís and light winds returned. Crappie anglers wasted no time in getting back on the water.
Presently, surface temperatures were in the 38 to 42 degree range, which are a few degrees cooler than last week at this time. Watch for waters to warm a few degrees in the days ahead.
Observed lake levels were 354.4 at New Johnsonville. Downstream at Kentucky Dam the readings were in the 354.5 range. The reservoir has been falling slowly this week but watch for a slight rise in lake levels by this weekend or early next week after some runoff from midweek rains.
Water color remains clear throughout the Tennessee River and only a slight stain in the lower Big Sandy. Up Big Sandy and into West Sandy some dingy water was present.
Action was fair Wednesday and Thursday for crappie fishermen who found fish somewhat scattered after the cold front. And, there appeared to be some shad dying in the aftermath of the cold spell too, which is not unusual when temperatures fall quickly.
Often times, threadfin shad will succumb to quick temperature inversions and go into shock when caught in shallow areas. If the abundance of sea gulls is any indication, a lot of shad must be available throughout the Paris Landing area.
Meanwhile, some crappie were taken on main lake ledges in depths of 18 to 23 feet at midweek. Success stories came from a few boats that worked deep sides of sandbars where fish were holding around stumps and brush.
Baits of choice were purple and chartreuse jigs, blue and white, and red and chartreuse. Some fish were also taking live minnows.
Up Big Sandy and in West Sandy, anglers were finding fish in 9 to 13 foot zones around structure. Water there was a little stained. Popular colors for jig fishermen were pink and white, along with some fluorescent leadheads such as green and pink. A few anglers were using black leadheads and pearl colored tube style bodies.
Watch for action to improve in the days ahead as warm weather is predicted for the weekend. Late winter has always been unpredictable for anglers and the last three weeks have certainly lived up to that reputation.
For The Lake Barkley Report
Click Here
Also check out our past:
Kentucky Lake Fishing Reports
Steve McCadams
Steve McCadams is one of the nation's best known Crappie Fishermen and a full time resident of Paris, Tennessee. Steve is also a professional hunting and fishing guide here in the Paris Landing area.