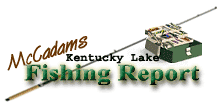 Brought to you by:





February 23, 2011


Weather has improved for anglers in the Kentucky Lake area and so has the fishing. It's that time of year when roller coaster weather patterns are part of the fishing scene but the last week or so has seen temps return to a normal range and even above average on a few days.

With the warming trend has come some windy days that have hampered both bass and crappie anglers. However, some moderate to warm days are in the forecast and that will continue to influence surface temperatures and fish movement.

Surface temps this week responded favorably and were warmer than last week by a few degrees. Readings at midweek were in the 44 to 46 degree range. Watch for an increase of three or four degrees by early next week as moderate weather with temps in the low to mid 60's is forecasted.

Water color remains clear across most of the reservoir but some heavy rain is arriving as this reported is updated, which may increase the stain in some shallow bays up Big Sandy and elsewhere on Kentucky Lake.

Elevation has been stable this week with readings at Kentucky Dam in the 355.2 range, which is a few inches above winter pool level. In the Paris Landing area elevation was 355 and upstream at TVA's New Johnsonville Steam Plant lake levels were slightly lower in the 354.8 range.

Expect a rise in lake stages this weekend and early next week in the aftermath of thunderstorms across the region.

Crappie showed some improvement this week as anglers stalking main lake ledges in depths of 20 to 25 feet found more fish in the mood. Using live minnows and some jigs, fishermen worked brushpiles and deep stumps on drop-offs to find some crappie relating to the deep side of ledges.

Some jigs in the white/chartreuse, black/red/chartreuse, and blue/chartreuse were producing a few scattered fish but reports indicate live minnows were the most popular bait of choice.

Not many crappie had moved up toward midrange or shallow structure this week but watch for that to keep changing as surface temps slowly warm, bringing more baitfish up from deep hideouts.

Some reports were coming in from anglers trolling and long lining jigs near the mouth of West Sandy earlier this week.

Bass anglers were busy working gravel points and big chunk rock bluffs with jig and pig combos, suspending jerk baits, and some slow moving, deep diving crankbaits in the crawfish and Tennessee shad color variations.

Bassers were also tossing Carolina rigged crawfish worked slowly off deep gravel points and bluffs.

Overall success was slow for most bass fishermen as not many fish were caught in the Paris Landing area. As surface temps climb into the upper 40's and cross the 50-degree threshold watch for bass to become more active by next week.

Sauger continue to evade winter fishermen and very few reports have come in from those finding one large enough to keep. Most sauger fishermen agree that numbers of the so called "rattle snake" of fishes is down drastically these last few years in the Tennessee River.

Also check out our past:
Kentucky Lake Fishing Reports

Steve McCadams is one of the nation's best known Crappie Fishermen and a full time resident of Paris, Tennessee. Steve is also a professional hunting and fishing guide here in the Paris Landing area.