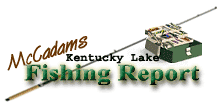 Brought to you by: Fishtale Lodge
Steve McCadams'
Kentucky Lake Fishing Report for:
February 20th, 2004
From the fishing scene comes news of falling lake levels. Since last week Kentucky Lake has changed dramatically in terms of elevation as TVA has really pulled the plug and flushed a lot of water through the reservoir.
Observed lake elevation at New Johnsonville was 355.1 at midweek. Thatís almost five feet difference from a week ago.
Further north at Kentucky Dam the lake was even lower with readings of 354.2.
Surface temperatures are starting out around 43 degrees in the morning and warming to 47 by midday. Itís possible anglers could see some 50-degree water by this weekend.
Watercolor throughout most of Big Sandy is relatively stained with a good, dingy appearance for fishing. The Tennessee River is stained too but many of the large bays are clear.
Fishing has been somewhat slow this week for crappie anglers. The rapidly changing lake levels are to blame in the opinions of many anglers who have tested the water with little to show.
A few scattered crappie were taken throughout Big Sandy but most anglers reported keeper size fish being far and few in-between.
Most anglers were marking suspended fish on their LCRs in depths of 17 to 25 feet but the fish were not in the mood to take live minnows or jigs. However, with the lake now somewhat stable and warmer weather entering the picture, things could pick up quickly so keep the boat hooked up. A quick trip to the lake might be in order.
Bass anglers have been mute this week, as not many success stories have come from the big lake. That too will likely change quickly as that shallow water warms quickly and the largemouth and smallmouth can have a mood swing practically overnight.
Some bass were hitting on fire-tiger colored crankbaits around dingy rock points while other popular colors in the clear water were crawfish and various shad colors.
And, better keep a jig and pig tied on at all times. These presping bass love to grab a slow moving bait as it churns up the gravel bottom.
For The Lake Barkley Report
Click Here
Also check out our past:
Kentucky Lake Fishing Reports
Steve McCadams
Steve McCadams is one of the nation's best known Crappie fishermen and a full time resident of Paris Tennessee. Steve is also a professional hunting and fishing guide here in the Paris Landing area.