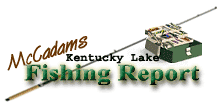 Brought to you by: Fishtale Lodge
Steve McCadams'
Kentucky Lake Fishing Report for:
February 18th, 2005
Winter fishing continues to offer a variety of weather patterns for anglers along Kentucky Lake. This week has been a mixture of warm sunny days and cold windy ones with a dose of rain mixed in at times.
The weather indicates the return of cooler weather this weekend with some rain on the way. This time of the year anglers get a bonus when a day or two of light winds and moderate temperatures occur.
Crappie fishing has been holding up pretty good, however, for anglers who have braved the elements this week. Some decent stringers have been taken but the wind has been a factor for many fishermen who wanted to work the main lake areas but could not due to the whitecaps.
Presently, Kentucky Lake is rising very slowly but still remains near the winter pool mark. TVA indicates lake stages will be in the 354.7 range this weekend at both Kentucky Dam and New Johnsonville areas, up only a few inches from earlier in the week.
Watercolor remains relatively clear throughout most of the reservoir. Surface temperatures warmed early this week into the upper 40ís and low 50ís. However, expect the cool conditions now upon us to send surface temps back down a few degrees by the weekend.
Some crappie have moved up to midrange stakebeds and brushpiles in 9 to 13 feet. The upper Big Sandy and West Sandy areas around Springville pumphouse and Britton Ford areas were producing fish in that depth range.
Anglers using minnows were doing pretty well. And, several jig fishermen were reporting success using such colors as motor oil with flake, red and chartreuse, and some black and chartreuse combos.
Look for action to resume in the main lake where deep ledges continue to hold fish in the 17 to 22 foot zones once the wind allows access to such areas.
A few bass anglers were stalking the rock and gravel banks this week. Tossing jig and pig combos and slow retrieved crankbaits, some anglers found success. And, a few smallmouth were taking finesse baits worked slowly on ledges and rock bluffs.
Sauger action continues further south on the river, especially near the Danville Bridge, mouth of Duck River and down toward Pickwick.
For The Lake Barkley Report
Click Here
Also check out our past:
Kentucky Lake Fishing Reports
Steve McCadams
Steve McCadams is one of the nation's best known Crappie Fishermen and a full time resident of Paris, Tennessee. Steve is also a professional hunting and fishing guide here in the Paris Landing area.