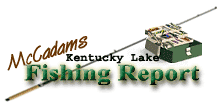 Brought to you by: Fishtale Lodge
Steve McCadams'
Kentucky Lake Fishing Report for:
February 17th, 2006
Fishing this week had a mixture of weather patterns. At midweek a nice warming trend scooted in the door and melted away snow that pelted the area last weekend courtesy of a blistery cold front.
The upcoming weekend could be a carbon copy of last weekend as colder weather and snow are in the forecast.
At midweek temperatures jumped up into the upper 50ís and low 60ís for a day or two but the reprieve was short in duration. High winds from the south were part of the picture on Tuesday and Wednesday. By Thursday winds increased even more and began shifting to the west northwest with the approaching cold front.
Anglers were finding a few scattered fish along the deep ledges in the mouth of Big Sandy this week. And, up in West Sandy crappie anglers there were finding some fish on structure in 8 to 13 foot zones.
On Tuesday and Wednesday I got the rust off my hooks and tested the water for crappie out on the Big Sandy, which was dancing with white caps from a string southern breeze. Fish were quite scattered for me but a few were taken in 17 to 22 foot zones where structure was found on the deeper sides of drop-offs.
A few fish were taking live shiner minnows as we bounced bottom with double hook rigs. And, some fish fell victim to red and chartreuse jigs. Occasionally we tipped a jig with a minnow or Berkley power bait.
For me it was tough to find any concentration of fish. It was a one here, one there day. And, in desperation I hit a couple of midrange stakebeds on the way to the dock and managed to take a keeper fish on the first two beds, which were located in 9 to 11 feet.
Meanwhile, anglers will again fall victim to the weather this weekend and hope for the return of warm temperatures and light winds.
Presently, surface temperatures are in the 41 to 44 degree range. Watch for that to cool some this weekend.
Lake levels in the New Johnsonville area were expected to be in the 354.4 range this weekend. Downstream at Kentucky Dam the elevation will be 354.6. The reservoir is relatively stable at this time.
Water color was somewhat dingy throughout Big Sandy and over on the Tennessee River while large bays were clearing some compared to last week.
Watch for crappie action to resume once the cold fronts pass. Perhaps anglers are getting paid back for the nice weather that January delivered. So far, February has been a bugger!
For The Lake Barkley Report
Click Here
Also check out our past:
Kentucky Lake Fishing Reports
Steve McCadams
Steve McCadams is one of the nation's best known Crappie Fishermen and a full time resident of Paris, Tennessee. Steve is also a professional hunting and fishing guide here in the Paris Landing area.