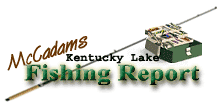 Brought to you by: Fishtale Lodge
Steve McCadams'
Kentucky Lake Fishing Report for:
February 11th, 2005
Crappie fishing reports received this week indicate some decent action is underway. However, this is the time of year when the wind and weather often deal the cards.
Most of the fish are in the main lake areas where the open water venues are vulnerable to wind here on Kentucky Lake. If you catch a day with light and variable winds the fishing can be pretty good.
However, if thereís a gale blowing and temperatures are falling then itís difficult to probe the main lake where deep ledges and submerged stumps attract winter crappie.
There have been some good catches coming from 16 to 20 foot depths. And, some anglers found a few fish in the 13 to 16 foot range, especially up in West Sandy area around Britton Ford.
Elevation this week has been down near the winter pool level after falling slowly last week. TVA indicates the reservoir will be 354.5 in the New Johnsonville area this week while Kentucky Dam will have a slightly higher reading of 354.5.
Watercolor has been relatively clear throughout most of the Tennessee and Big Sandy River areas.
Surface temperatures have warmed some this week. Readings were in the 42 to 46 degree range on the warm days but may cool some toward the end of the week as the weatherman says cooler conditions may return.
Still, recent winter fishing has been pretty good. Puryear angler Steve Ferguson reported some good stringers taken last week in the Paris Landing area from deepwater ledges. He credited his success to red and chartreuse jigs.
Ferguson indicated the fish were in good shape too, sporting a hefty size and appetite.
Jerome Hancock of Big Sandy reported some good luck too. Hancock indicated a limit of crappie taken on Saturday and a good catch on Sunday from the West Sandy area.
Sauger action continues to hold up for the popular winter fishery. Areas to our south have been reporting success as the fish seem to prefer the narrow channel areas where current is a factor.
The fish seem to migrate upstream on their spawning runs and thatís why Danville Bridge, New Johnsonville, the mouth of Duck River and further south toward Pickwick are the popular spots.
For The Lake Barkley Report
Click Here
Also check out our past:
Kentucky Lake Fishing Reports
Steve McCadams
Steve McCadams is one of the nation's best known Crappie Fishermen and a full time resident of Paris, Tennessee. Steve is also a professional hunting and fishing guide here in the Paris Landing area.