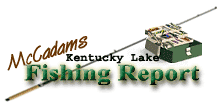 Brought to you by: Fishtale Lodge
Steve McCadams'
Kentucky Lake Fishing Report for:
February 10th, 2006
This week's fishing report from the Paris Landing area and the upper sector of the Big Sandy portion of Kentucky Lake has many anglers wishing for the return of some warm weather.
Old Man Winter returned this week and chased away what had been unusually warm conditions for the last few weeks. Dreary days with north winds and cold temperatures have kept most anglers off the lake the last few days.
Yet a few reports from anglers braving the elements continue to show deep water crappie are biting. And, some anglers in the upper Big Sandy and West Sandy area continue to find fish on midrange structure where 9 to 12 foot zones have produced fish.
Some brush piles, stakebeds, and stump rows have accounted for decent fish lately in West Sandy and Big Sandy up around the New Hope area and south to Sulphur Well Island near the TVA power lines.
Further north toward the mouth of Big Sandy near Paris Landing has seen more reports coming from anglers testing the deeper ledges where 18 to 24 foot zones have given up some fish this week.
Currently, Kentucky Lake is stable after rising slightly earlier this week. Observed lake elevation in the New Johnsonville area is 355.9, which is up a few inches from last week. Downstream at Kentucky Dam the elevation was 355.4 on at midweek.
Surface temperatures have cooled some and fallen back to the 40-44 degree range this week.
Water color is relatively clear in most of the reservoir with some stain in the Tennessee River portion.
A few sauger fishermen are still testing the water but reports are mediocre at best with a few small fish dominating the daily catches in this area and further south around Danville and New Johnsonville.
Several good reports have come in from winter catfishermen. Some hefty stringers were taken recently around New Johnsonville where anglers are working both the discharge harbor at the steam plant and deep holes along the main river.
Watch for crappie action to bounce back quickly when the sun peaks out and light winds return. The fishermen are affected more by the weather right now than the fish!
For The Lake Barkley Report
Click Here
Also check out our past:
Kentucky Lake Fishing Reports
Steve McCadams
Steve McCadams is one of the nation's best known Crappie Fishermen and a full time resident of Paris, Tennessee. Steve is also a professional hunting and fishing guide here in the Paris Landing area.