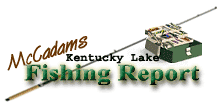 Brought to you by: Fishtale Lodge
Steve McCadams'
Kentucky Lake Fishing Report for:
February 9th, 2007
Fishermen in the Kentucky Lake area have been staying close to the fire these last two weeks as winter weather has dominated the outdoor scene. Cold temperatures and bone chilling winds have not been conducive to outings on the lake recently but it appears the weatherman will loosen up next week and return some moderate conditions to the area.
Kentucky Lake has been falling slowly this week. Lake levels in the Paris Landing area will be 354.7 going into the weekend, which is getting close to the low ebb of winter pool.
Downstream at Kentucky Dam lake levels will be slightly higher with projections in the 355 elevation range.
Water color has been quite clear. Surface temperatures have cooled down due to the bitter cold and some ice has been present in shallow backwater bays and on the rims of islands. Surface temperatures were reported to be in the mid to upper 30ís this week but watch for them to warm some by the middle of next week.
Crappie will likely remain in deep venues next week as the colder surface temperatures normally force the threadfin shad back to safer havens. Watch for the action to occur on the deep sides of ledges in that 18 to 25 foot zone.
For The Lake Barkley Report
Click Here
Also check out our past:
Kentucky Lake Fishing Reports
Steve McCadams
Steve McCadams is one of the nation's best known Crappie Fishermen and a full time resident of Paris, Tennessee. Steve is also a professional hunting and fishing guide here in the Paris Landing area.