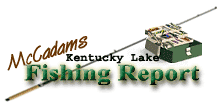 Brought to you by: Fishtale Lodge
Steve McCadams'
Kentucky Lake Fishing Report for:
February 4th, 2005
After weeks of high water where levels reached more than six feet above normal in some areas, Kentucky Lake is returning to near normal winter pool elevation.
TVA indicates the reservoir will be in the 354.9 to 355 range this week, barring any heavy rains. The reservoir has been falling steady for several days but should stabilize in the days ahead.
Watercolor has been clear to slightly stained throughout the Paris Landing sector. Surface temperatures have been in the mid 30's to low 40's with some ice in shallow bays and pockets at times.
Crappie action has been fair lately with most of the fish coming from deeper venues. Depths of 18 to 24 feet have produced a few fish this week as anglers work the main lake ledges in open water. Stalking the deep structure of stumps and brush with jigs and jigs tipped with minnows has given up a few fish lately.
Anglers have had to pick their times and avoid some days with uncomfortable winds and cold temperatures.
Some sauger action has resumed this week upstream in such areas as Danville Bridge, New Johnsonville, the mouth of Duck River and further south toward Pickwick. A slight current was present but offered the return of decent sauger fishing conditions after a week or two of too much water and current as the lake was being drawn down rather fast.
For The Lake Barkley Report
Click Here
Also check out our past:
Kentucky Lake Fishing Reports
Steve McCadams
Steve McCadams is one of the nation's best known Crappie Fishermen and a full time resident of Paris, Tennessee. Steve is also a professional hunting and fishing guide here in the Paris Landing area.