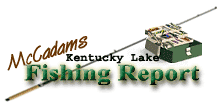 Brought to you by: Fishtale Lodge
Steve McCadams'
Kentucky Lake Fishing Report for:
February 1st, 2008
From the winter fishing scene comes word of a slow down in both the crappie and sauger department, due in part to a shad die-off last week courtesy of the cold snap. Itís not unusual for shad to fall victim to rapidly changing surface temps during winter as they go into shock when quick changes catch them in shallow water.
Often times the abundant food source of dying or darting shad that are about to die, provide a quick and easy meal for crappie, sauger, catfish and just about every other fish in the lake.
As a result it kind of throws a curve to anglers for a few days and that appears to be what happened this week in the Paris Landing area.
Crappie and sauger anglers have experienced a pretty good winter fishing season thus far so no one can complain. And, action will likely resume in the days ahead as normal temps return.
Kentucky Lake has been somewhat above normal winter pool elevation for the last two months, despite the talk of drought conditions at many middle and east Tennessee reservoirs. On Monday the lake was about to reach its lowest elevation of the winter and danced around the 354.8 mark for a day or so but heavy rains on Tuesday have stimulated a slight rise.
Not too much runoff occurred Tuesday as the storm blew through rapidly and rain was pushed out fast by gale winds. Look for lake levels to be in the 355.1 range in the days ahead at both Kentucky Dam and New Johnsonville. Surface temperatures have been in the mid 30ís this week after seeing some ice in shallow backwater bays last week at this time.
Jim Perry of Buchanan reported catching a hefty sauger last week that tipped the scales at 3 ľ-pounds. The big sauger measured 19 and ĺ-inches long He credited the catch to a huge minnow that was at least four inches long.
Perry reported seeing lots of gulls up Big Sandy around the power lines, a further indication of a recent shad kill.
It appears weather will moderate going into the weekend as temps are predicted to rebound to the mid 50ís. The return of mild conditions should see the fishing scene improve quickly.
For The Lake Barkley Report
Click Here
Also check out our past:
Kentucky Lake Fishing Reports
Steve McCadams
Steve McCadams is one of the nation's best known Crappie Fishermen and a full time resident of Paris, Tennessee. Steve is also a professional hunting and fishing guide here in the Paris Landing area.