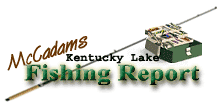 Brought to you by: Fishtale Lodge
Steve McCadams'
Kentucky Lake Fishing Report for:
January 5th, 2007
Winter fishing conditions continue to hold up pretty good for the so-called cold weather anglers here in the Kentucky Lake area. Mild temperatures have continued now for about three weeks with only a few days of cool windy conditions.
Overall anglers have had the weather going their way since winter officially arrived back on December 21st.
Kentucky Lake has seen a rise in lake levels this week after resting at winter pool for most of December. The reservoir was rising slowly each day with projections going into the weekend for 356.1 at New Johnsonville and 355.8 downstream at Kentucky Dam.
Thatís some two feet higher that last week at this time as quite a bit of runoff entered the Tennessee River system last week.
Water color has a little more stain in it this week too. Surface temperatures are in the 46 to 49 degree range.
Locally, sauger and crappie anglers are still testing the water and partaking of the nice winter weather as most anglers know it could get nasty at anytime.
Several reports from sauger fishermen have been coming but most indicate the mystery fish of winter, also called the rattle snake fish of Tennessee, have been quite scattered. Here in the Paris Landing area it seems anglers are finding a few at mixed depths but only landing two or three keepers each trip.
By the way, I mentioned in last weekís column about the minimum length limit on sauger and for Kentucky Lake it is 14-inches and not 15-inches as is in the case in some other lakes across the state. Jim Perry of Buchanan who is retired but canít seem to get up early enough to duck hunt in Springville bottom anymore, brought the length limit error to my attention.
Crappie fishermen continue to score as some decent stringers have been taken lately. Anglers are working deep stakebeds and brushpiles in depth ranges of 12 to 14 feet and finding fish. A few event reported scattered fish in 9 to 12 foot zones.
Here in the Paris Landing area some anglers continue to work the main lake ledges of open water where those submerged sandbars are producing fish in 16 to 20 foot depths. Both jigs and minnows are paying off.
Rain appears to be entering the picture for a day or two and that could see Kentucky Lake water levels continue to rise or stay a few feet above the winter pool elevation.
For The Lake Barkley Report
Click Here
Also check out our past:
Kentucky Lake Fishing Reports
Steve McCadams
Steve McCadams is one of the nation's best known Crappie Fishermen and a full time resident of Paris, Tennessee. Steve is also a professional hunting and fishing guide here in the Paris Landing area.