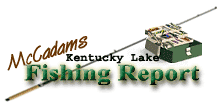 Brought to you by: Fishtale Lodge
Steve McCadams'
Kentucky Lake Fishing Report for:
January 30th, 2004
Fishing on the local scene has had a mixture of weather patterns this week, which challenged anglers.
Monday felt like a spring day with warm temperatures reaching the 60-degree mark, along with light and variable winds. It was a good fishing day.
Then on Tuesday, the white stuff feel from the sky and temperatures dropped more than 30-degrees, escorted by a strong north wind that made you pull your collar up and reach back in the closet for another jacket.
Kentucky Lake's elevation has been fluctuating this week with some up and down movement. Presently, the reservoir is in the 356 range at New Johnsonville and Paris Landing areas after rising for three days.
The lake is some two feet above the normal winter pool elevation so watch for falling lake stages this week, which means more current for the sauger anglers.
Surface temperatures have been dancing around the 33 to 35 degree range with some ice forming each night in shallow bays.
Crappie anglers have enjoyed moderate success lately with some deep-water action in Kentucky Lake. Depths of 18 to 24 feet have produced a few fish with several small crappie reported.
Watch for action to improve next week, assuming the weather cooperates and allows anglers to work the open water areas.
Sauger action has been fair with some fish coming from the mouth of Duck River, Danville Bridge, and down south to Pickwick.
Most anglers are catching fish but reported the bulk of their catch to be short of the legal length limit.
For The Lake Barkley Report
Click Here
Also check out our past:
Kentucky Lake Fishing Reports
Steve McCadams
Steve McCadams is one of the nation's best known Crappie fishermen and a full time resident of Paris Tennessee. Steve is also a professional hunting and fishing guide here in the Paris Landing area.