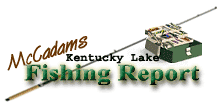 Brought to you by:




December 8, 2010

WINTER FISHING WOES AT MERCY OF ELEMENTS

Winter fishing has yielded to the weather the last week to ten days as cold temps and bone chilling winds have not been kind to anglers. It appears another blast of Artic air is on the way too.

According to the weatherman another cold front is in the forecast for later this weekend where below average temps will linger well into next week. Those winter bass, sleepy crappie, and sly sauger will just have to wait for better weather as most anglers have put their fishing fever on hold.

Presently, lake levels in the New Johnsonville area are somewhat above winter pool and have risen slowly this week. Observed elevation at New Johnsonville is expected to be in the 356.3 range going into the weekend.

Downstream at Kentucky Dam elevation for Kentucky Lake as in the 355.9 range. The reservoir was rising slowly at midweek and weekend rains may see a further rise but no heavy rains are anticipated before the cold front pushes through.

Surface temps are down from last week and now in the 34 to 39 degree range. However, some very shallow areas and island rims had light skims of ice at midweek.

Water color had a slight stain in the main channel but relatively clear in secondary bays


Also check out our past:
Kentucky Lake Fishing Reports

Steve McCadams is one of the nation's best known Crappie Fishermen and a full time resident of Paris, Tennessee. Steve is also a professional hunting and fishing guide here in the Paris Landing area.