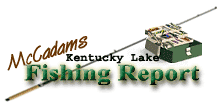 Brought to you by: Fishtale Lodge
Steve McCadams'
Kentucky Lake Fishing Report for:
December 30th, 2005
WINTER CRAPPIE FISHING HOLDING UP WELL
Thanks to unusually warm temperatures and calm winds, a lot of area anglers have experienced some good crappie fishing this winter here on Kentucky Lake.
Several days have offered calm winds and reports indicate some decent stringers have been taken the last couple of weeks.
Popular depth ranges have varied as some fish were taken in West Sandy and up Big Sandy south of the New Hope in 8 to 10 foot depths. Crappie there were relating to structure and hitting 1/16 –ounce jigs in pearl, chartreuse and black and some blue and white.
Down in the Paris Landing area a few fish were in the midrange depths as well but other anglers reported working the deep ledges in the main lake where fish were caught in 18 to 24 feet.
Kentucky Lake has been resting near its winter pool level of 354 for several weeks. A lack of rain has not changed lake levels much so the reservoir is staying low and will continue to do so until heavy rains occur.
Water color is clear throughout the lake and surface temperatures have risen this week into the mid-40's as the mercury climbed into the low 60's a few days. On Tuesday the National Weather Service reported temperatures were 17 degree above normal for this area.
Some scattered reports are coming in from sauger fishermen but a lack of current has not helped and most anglers are having tough luck. A few small fish were hitting just before Christmas but action this week has been off.
For The Lake Barkley Report
Click Here
Also check out our past:
Kentucky Lake Fishing Reports
Steve McCadams
Steve McCadams is one of the nation's best known Crappie Fishermen and a full time resident of Paris, Tennessee. Steve is also a professional hunting and fishing guide here in the Paris Landing area.