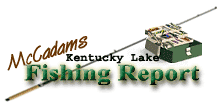 Brought to you by: Fishtale Lodge
Steve McCadams'
Kentucky Lake Fishing Report for:
December 29th, 2006
WINTER WEATHER HAS BEEN KIND TO ANGLERS
How about this winter fishing scene? The last few weeks have been on the side of winter fishermen as mild weather has played right into the hands of crappie and sauger fishermen on Kentucky Lake.
Those golden brown fillets sure taste good any time of year but especially when taken from cold water.
Presently, surface temperatures are in the 48 to 50 degree range. Lake levels had been resting at the low level of 354, which is winter pool, for several weeks before rising slightly earlier this week after heavy rains.
Water color remains quite clear across the reservoir.
TVA is predicting a slow fall going into the weekend with a forecast of 354.4 by Saturday. That should see the presence or current in the main river for a few days, which might be good news for sauger anglers.
Winter fishing for sauger has bounced back some this year compared to times past here in the Paris Landing sector. Several anglers have been testing the water lately and finding a few that meet the minimum 15-inch length limit.
Crappie anglers have enjoyed the calm days too as those open water ledges are easier to negotiate during days of light and variable winds. And, warm weather has made it more appealing as well.
Some reports came in this week from anglers finding fish in the 12 foot depth range as anglers worked stakebeds and brush piles. There were also some fish holding on main lake ledges in the 16 to 18 foot range where those deep stumps and brush were home to winter crappie.
Some anglers were finding success on chartreuse and orange jigs while others were using live shiner minnows.
The month of December is about gone but it has been kind to anglers delivering weather that has been more like fall than winter. While deer and duck hunters have had to battle some unfavorable conditions, anglers on Kentucky Lake have been smiling for several weeks. Every day means spring is a little bit closer.
Even thought colder days are ahead, anglers can't complain as they've been the beneficiary of a mild winter thus far.

For The Lake Barkley Report
Click Here
Also check out our past:
Kentucky Lake Fishing Reports
Steve McCadams
Steve McCadams is one of the nation's best known Crappie Fishermen and a full time resident of Paris, Tennessee. Steve is also a professional hunting and fishing guide here in the Paris Landing area.