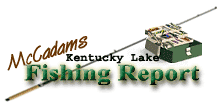 Brought to you by: Fishtale Lodge
Steve McCadams'
Kentucky Lake Fishing Report for:
December 22nd, 2006
WINTER FISHING CONDITIONS AGREEING WITH ANGLERS
From the fishing scene comes some good reports from anglers enjoying the unusually warm weather and light winds.
For the last two weeks conditions have been almost spring like with light winds and warm days dominating the outdoor scene.
Kentucky Lake has been giving up some nice crappie lately as some fish had moved up into midrange stakebeds and brushpiles in the 6 to 14 foot depth range.
Surface temperatures were hanging around the 47 to 50 degree range this week and that has apparently stimulated some movement of crappie to shallow venues. Last week most of the fish were lingering on main lake ledges in the 15 to 20 foot range but several anglers reported fish moving up this week.
Itís likely the warmer weather has brought schools of shad up to shallow areas and the crappie are following their forage.
Sauger are showing up as well with a few successful reports coming in from the Paris Landing sector. The days when current is present have been better for sauger fishermen working the main river channel banks with jigs tipped with minnows.
A few bass fishermen have been out and prolonging the season too. Working jigs and pig combos and some crankbaits along gravel and rock banks has produced some bass.
Watercolor is quite clear throughout the reservoir and lake levels are down to the winter pool elevation of 354. Be careful out there in low water and pay attention to channel markers.


For The Lake Barkley Report
Click Here
Also check out our past:
Kentucky Lake Fishing Reports
Steve McCadams
Steve McCadams is one of the nation's best known Crappie Fishermen and a full time resident of Paris, Tennessee. Steve is also a professional hunting and fishing guide here in the Paris Landing area.