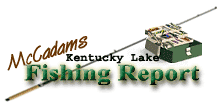 Brought to you by: Fishtale Lodge
Steve McCadams'
Kentucky Lake Fishing Report for:
December 21st, 2007
Fishing has been holding up well for local anglers who can pick their days and dodge the wind and inclimate weather.
Sauger have been hitting pretty good on the Tennessee River with the most action coming from the Paris Landing bridge and further south to Danville bridge as well as down at the mouth of Duck River.
Crappie are hitting good as the deep water patterns are holding up well. Most of the fish are coming from main lake ledges in the 18 to 23 foot zones where anglers are tightlining jigs and minnows around the deep sides of drop-offs.
This winter fishing thing is going good.
Surface temperatures have been in the 48 to 52 degree range this week.
Lake levels had risen some three and a half feet above winter pool in the aftermath of last week's heavy rain but TVA is drawing the reservoir back down each day.
Lake levels going into the weekend will be in the 356.1 range at New Johnsonville and 356.3 at Kentucky Dam. The reservoir has been falling five to six inches each day since Monday's crest.
For The Lake Barkley Report
Click Here
Also check out our past:
Kentucky Lake Fishing Reports
Steve McCadams
Steve McCadams is one of the nation's best known Crappie Fishermen and a full time resident of Paris, Tennessee. Steve is also a professional hunting and fishing guide here in the Paris Landing area.