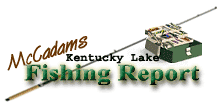 Brought to you by: Fishtale Lodge
Steve McCadams'
Kentucky Lake Fishing Report for:
December 7th, 2007
WARM WEATHER FORECAST DELIGHTS ANGLERS
Kentucky Lake anglers continue to score on late fall crappie with some scattered sauger reports coming in as well.
Several pleasant days have allowed open water anglers to pursue the deep water venues and it has paid off with some good stringers lately. Itís that time of year when you have to watch the weather and especially the wind but conditions have been favoring crappie fishermen a few days each week.
Most of the big catches are coming from main lake ledges where working jigs or live minnows around submerged structure are the ticket. Popular depths have been the 17 to 22 foot range with a lot of fish lingering around that 18 foot mark.
Find some brush or stumps on the edge of the shelf or off on the deep side and chances are youĎll encounter some nice crappie relating tight to cover.
Popular jig colors have ranged from grape and chartreuse to pink and chartreuse and some blue and chartreuse variations.
A few fish have come from manmade fish attractors in 12 to 13 feet but most of the fish are backing off into somewhat deeper water where drop-offs out on the main lake are prime areas. Thatís why the wind is such a factor as it dictates where and how anglers can fish those open water wonderlands.
A few sauger have been caught this week around Paris Landing area where bridge piers are blocking current and holding some fish but upstream toward Danville Bridge there have been some fish taken there as well.
Sauger like the main river channel areas and whenever a narrowing occurs, such as Paris Landing or Danville, the fish seem to occupy those areas. Other popular locations are further south toward New Johnsonville, the mouth of Duck River and down toward Pickwick tailrace.
Bass action has fallen off some as surface temperatures have slowed down the bite that was popular up in shallow grassbeds up until a week or so ago. However, warmer weather is in the forecast for this weekend and into next which could see the return of some bass action along both gravel banks and grassbeds in the big bays.
Presently, surface temperatures have fallen into the 45 to 47 degree range and perhaps even cooler as recent cold nights have had an effect. However, watch for temps to rebound this weekend into the low 50ís if the weather forecast holds up as some early fall weather appears to be on the way.
Lake elevation has changed since last week as the reservoir has been falling slowly for several days. Observed elevation at New Johnsonville is 354.5, which is the lowest reading thus far this fall. Downstream at Kentucky Dam the elevation is in the 355.1 range and falling slowly.
Some stain is present in shallow areas as high winds on Wednesday really whipped up shallow sandbars and mudflats, stirring up sediments.
It appears the temperature will favor the fishermen in the days ahead as above average temps are on the way.
For The Lake Barkley Report
Click Here
Also check out our past:
Kentucky Lake Fishing Reports
Steve McCadams
Steve McCadams is one of the nation's best known Crappie Fishermen and a full time resident of Paris, Tennessee. Steve is also a professional hunting and fishing guide here in the Paris Landing area.