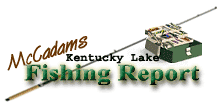 Brought to you by: Fishtale Lodge
Steve McCadams'
Kentucky Lake Fishing Report for:
January 2nd, 2004
WINTER ANGLERS ENJOY PRETTY WEATHER
Winter fishing has been good this past week for anglers, as cabin fever has been treated with a big dose of nice weather and pleasant outings at the lake.
Calm winds and above average temperatures have been in favor of crappie and bass fishermen who have taken advantage of the conditions. This past week there were a lot of boats on the lake, most of which were stalking the deep confines of Kentucky Lake for some of those Christmas crappie.
Several fish are relating to the deep sides of main lake ledges in such depths as 18 to 25 feet. Most anglers are tight lining jigs and minnows with some using a combo presentation.
Crappie will often hold on the deep sides of drop-offs this time of year, especially where those stumps and brush areas are found.
The shad seek the deep confines and the crappie are right there with them.
Kentucky Lake has been falling slowly this week after resting almost a foot above the winter pool mark last week. Elevation in the Paris Landing area is around the 354.7 mark.
Additional rain is predicted this weekend so watch for lake levels to rise some next week, depending on the amount of rainfall.
Watercolor is clear in the main lake and surface temperatures have been in the 40 to 44 degree range.
Pick your days when the winds are calm and you can have some good winter fishing.
For The Lake Barkley Report
Click Here
Also check out our past:
Kentucky Lake Fishing Reports
Steve McCadams
Steve McCadams is one of the nation's best known Crappie fishermen and a full time resident of Paris Tennessee. Steve is also a professional hunting and fishing guide here in the Paris Landing area.