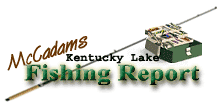 Brought to you by: Fishtale Lodge
Steve McCadams'
Kentucky Lake Fishing Report for:
December 5th, 2003
Fishing has been at the mercy of the elements this week as changing weather patterns have played havoc with angling attempts for the most part.
Several windy days have hampered open water fishing attempts on Kentucky Lake but there have been a couple of days mixed in that allowed some decent fishing conditions.
Crappie anglers are finding fish on the deep ledges. The main lake drop-offs are holding some good numbers of fish, especially on the deep sides where depths of 18 to 22 feet are producing.
Jigs fished on the tight line method are paying off as are live minnows dunked around the submerged brush and stumps. Itís that time of year when many crappie pull back to deeper water and working the creek channels, sloughs and humps can be the ticket to cold weather crappie.
Popular colors have been purple and chartreuse, along with some red and chartreuse.
Most anglers are using a (one-eighth) 1/8 ounce leadhead and choosing to use painted heads such as fluorescent gre
Look for deep water action to hold up well for the next few weeks. However, the weatherman is predicting a cold front with high winds this weekend so anglers may have to wait on decent weather to get back on the lake.
Meanwhile, Kentucky Lake has been fluctuating this week as the reservoir jumped some three feet above winter pool for a few days and is now falling fast.
Observed elevation in the Paris Landing area was changing daily but showed readings of 355.8 late this week.
Watercolor is dingy in the main lake but clearing in bays and throughout the Big Sandy River area. Surface temperatures had cooled into the upper 40ís.
For The Lake Barkley Report
Click Here
Also check out our past:
Kentucky Lake Fishing Reports
Steve McCadams
Steve McCadams is one of the nation's best known Crappie fishermen and a full time resident of Paris Tennessee. Steve is also a professional hunting and fishing guide here in the Paris Landing area.