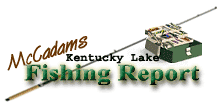 Brought to you by: Fishtale Lodge
Steve McCadams'
Kentucky Lake Fishing Report for:
January 20th, 2006
From the winter fishing scene comes word of a few successful crappie anglers who have taken advantage of the mild weather throughout most of January.
Sauger fishermen are finding a few fish around Paris Landing and further south to Danville bridge and New Johnsonville. Most anglers report several small fish still in the creek but a few decent ones are mixed in there with them.
Crappie anglers are still finding fish in midrange stakebeds and brushpiles. Depths of 10 feet have been productive in West Sandy and down toward Sulphur Well Island and Mansard Island area.
Further north near the mouth of Big Sandy most of the anglers are finding fish deeper along main lake ledges. Depths of 18 to 20 feet have given up some decent stringers from the deep stumps and brush.
While a few windy days have curtailed activity for anglers, there have also been some days with light winds and moderate temperatures that stirred up the fishing pox for area anglers.
Lake levels have been rising slowly the last few days after staying near the winter pool mark for several weeks. TVA indicated lake levels would be in the 355.6 range this weekend in the Paris Landing area, which is several inches higher than last week at this time.
Surface temperatures were in the upper 40's before Tuesday's cold front and snow descended. Somewhat mild temperatures are in the forecast so surface temperatures will likely rebound the next few days after falling several degrees Tuesday night.
Overall, winter fishing has been pretty good.
For The Lake Barkley Report
Click Here
Also check out our past:
Kentucky Lake Fishing Reports
Steve McCadams
Steve McCadams is one of the nation's best known Crappie Fishermen and a full time resident of Paris, Tennessee. Steve is also a professional hunting and fishing guide here in the Paris Landing area.