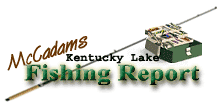 Brought to you by: Fishtale Lodge
Steve McCadams'
Kentucky Lake Fishing Report for:
January 19th, 2007
Winter fishing reports this week indicate anglers have had to yield to the weather. Last weekendís heavy rains dampened the spirits of most anglers and cold weather with brisk winds arrived early in the week.
Not many crappie or sauger fishermen were out this week but anglers canít complain as it has been a good winter thus far in terms of weather and overall fishing conditions.
Kentucky Lake has really been fluctuating the last week or so. Lake levels rose quickly last week but crested and began falling as fast as it came up. The reservoir crested last week around 357.5 but dropped fast this week, resting for a day or so at 354.9 in the New Johnsonville area on Tuesday.
By Wednesday the lake was rising slowly in the aftermath of the heavy rains and runoff last weekend. The Mississippi and Ohio Rivers to our north are still high and TVA discharges that direction so water levels may continue to rise slowly the rest of the week.
The forecast going into the weekend at New Johnsonville is 355.5.
Surface temperatures have cooled down into the mid to upper 30ís. Water color has a bit of stain but still OK for fishing.
Watch for crappie to pull back a bit deeper in the days ahead and colder weather will likely send the bulk of the baitfish back deep.
For The Lake Barkley Report
Click Here
Also check out our past:
Kentucky Lake Fishing Reports
Steve McCadams
Steve McCadams is one of the nation's best known Crappie Fishermen and a full time resident of Paris, Tennessee. Steve is also a professional hunting and fishing guide here in the Paris Landing area.