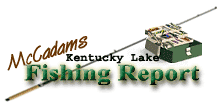 Brought to you by: Fishtale Lodge
Steve McCadams'
Kentucky Lake Fishing Report for:
November 7th, 2008
Anglers have enjoyed beautiful fall weather this past week on Kentucky Lake. Temperatures have been above average and the winds have been calm.
Although changing weather is on the way, no one can complain as it has been great to be on the lake lately with the parade of colors from hillside hardwoods mirrored in placid waters.
Both bass and crappie action has held up pretty good. Some anglers are finding the fall fishing patterns to be challenging on a few days when stagnant winds and high skies were present, however.
Currently, Kentucky Lake is falling slowly after resting at stable lake levels for the last week or so. Elevation at Kentucky Dam is 355. Upstream at New Johnsonville readings were in the 354.8 range. Those readings are down slightly from last week at this time.
Surface temperatures rebounded some this week after the influence of warm sunny weather. The last few days the surface temps have ranged from 61 in the early morning hours to 63 at midday.
With cooler weather in the forecast watch for surface temps to fall back in the mid to upper 50ís by early next week. Meanwhile, water color remains clear.
Crappie have been scattered in the 9 to 13 foot range this week. A few fish were taken in 6 to 9 foot zones up Big Sandy and in West Sandy but most anglers have to make a lot of stops or cover a lot of water.
While a few anglers are working the main lake ledges and hitting the 15 to 20 foot depths not many fish have been taken there this week.
Bites have been finicky as the fish are somewhat sluggish, especially on the days with stagnant winds and high skies. In the early morning and late afternoon hours with lowlight conditions the fish seem to perk up some in shallow areas.
Techniques have ranged from spider rigs to vertical presentations of jigs and minnows over manmade structures.
Jig colors such as light blue with metal flake and some red/chartreuse combinations have produced. Tipping jigs with Berkley power bait has helped while live minnows seemed to have less appeal this week on peculiar crappie.
There is a pretty good grade of fish showing up with several black crappie topping the one pound mark.
Bass fishing is holding its own with several fish still relating to shallow grass. Tossing spinnerbaits, rattle traps, floating worms, and topwater jerk baits have continued to produce.
Some fish continue to hit both buzzbaits and floating weedless frogs around shallow crappie beds and grass.
Crankbaits around shallow gravel banks have worked too.
Some schooling bass were showing up on shallow flats and busting shad in brief encounters of surface activity. A few white bass and yellow bass are mixed in as well, along with an occasional striper that really tests the knots.
It appears a cooling trend will descend this weekend and anglers may have to endure a day or two of northwest winds before things mellow out by early next week.
For The Lake Barkley Report
Click Here
Also check out our past:
Kentucky Lake Fishing Reports
Steve McCadams
Steve McCadams is one of the nation's best known Crappie Fishermen and a full time resident of Paris, Tennessee. Steve is also a professional hunting and fishing guide here in the Paris Landing area.